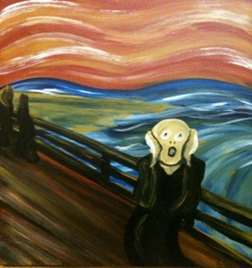 Munch's Scream
Norwegian Expressionist artist Edvard Munch created four versions of this iconic painting in various media between 1893 and 1910. Since the late 20th century following its copyright expiration, The Scream has been imitated and parodied, which led to it acquiring an iconic status in popular culture. Now you can have your own version of this fan favorite!
Find events near me
Munch's Scream Events Near You
There are currently no classes offered in your location.
All Munch's Scream Locations
There are currently no classes scheduled for this painting.