"We were proud to support St. Jude Children's Research Hospital during childhood cancer awareness month in September. We participated in the #ShowYourGold campaign and raised more than $34,000 though local community events and through the help of our customers who made their night out count in our studios. Our franchisee partner Kristie Bauer presented a check to St. Jude at their headquarters in Memphis, Tenn."

"In our first nationwide fundraising event, we raised $20,000 in one evening to help support the National Breast Cancer Foundation. Pinot's Palette co-founder and CEO Craig Ceccanti (front left) presented the NBCF founder Janelle Hail with a hand-painted check as franchisee partners and staff join."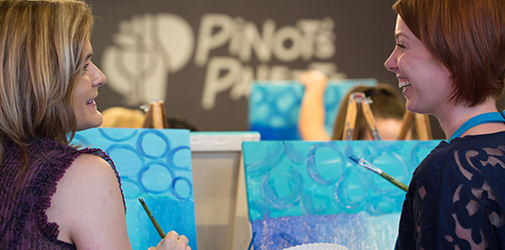 Partner With Us
We're proud to partner with amazing non-profit organizations and local charities that help our communities. Whether we're hosting an event at our location or donating items to help your organization grow, we can work together. Learn how to become a part of Painting it Forward by contacting a studio near you.
Orlando Pulse Painting Fundraiser
In the wake of the tragic and horrific act of violence early Sunday morning, Pinot's Palette has coordinated events across the country to raise money for the victims of the Orlando Pulse shooting. Please help us support this cause by attending one of the events below and/or going to one of these two donation links below. Pinot's Palette events supporting this national Painting It Forward initiative: Montrose - https...
Read More
Fundraising Locally
Spring is here which also means so is the season of fundraising! Senior trips, proms and summer...
Read More