Painting Fundraisers
The "season of giving" never truly ends. Any time of year is the right time to really consider our roles in helping local and global communities. Pinot's Palette has hosted charitable paint nights for most of its nine-year history. From national fundraisers for St. Jude Children's Research Hospital, to city-wide Painting It Forward events for the SPCA, to local paint nights for autism awareness, we've partnered with countless amazing non-profits to benefit entire communities.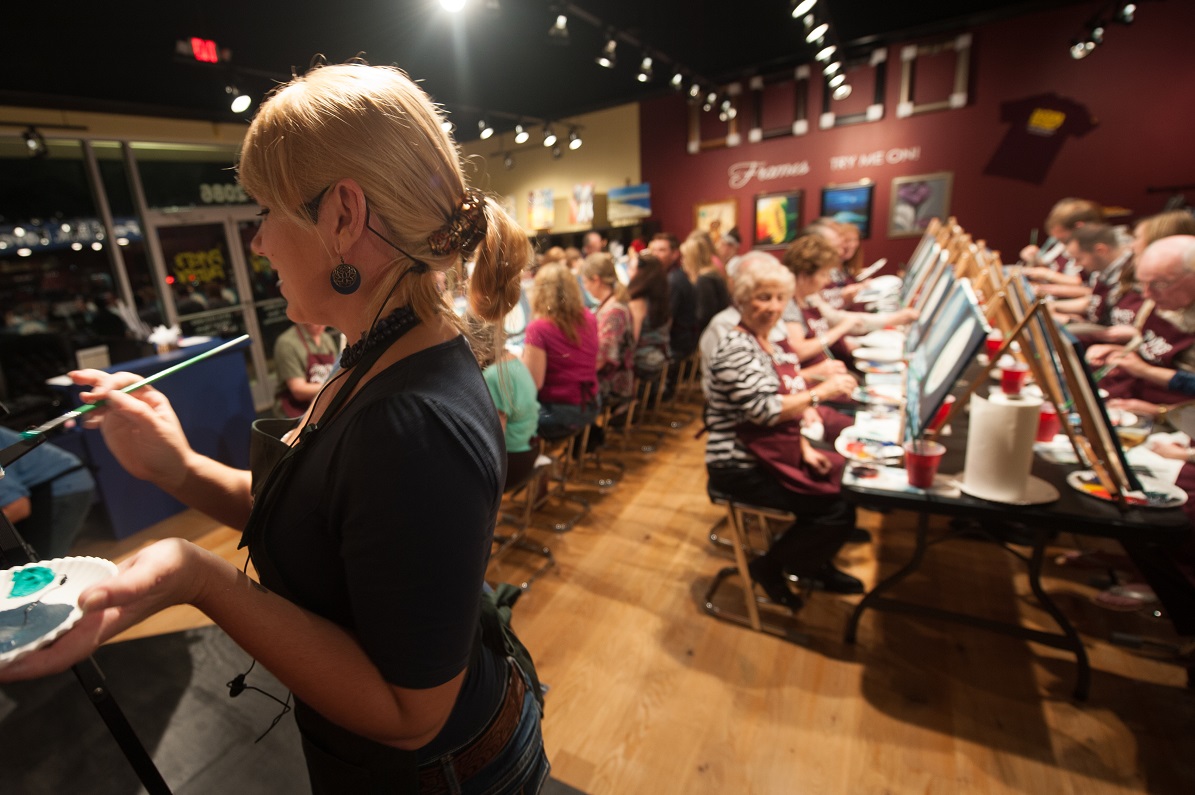 Painting It Forward events are paint and sip classes with an extra dose of heart and soul. When you buy a seat in a Painting It Forward class, you're making a donation to a nonprofit or community fundraiser. To join a painting fundraiser, look for the events marked with an orange heart on your studio's calendar. (And if you're part of a 501(c)3 non-profit and you're interested in hosting a painting fundraiser or awareness event, reach out to your local studio to talk options!)
PAINTING IT FORWARD HITS HOME
We believe charitable giving and service is deeply personal to every individual. Our headquarters team experienced this firsthand earlier this year when Hurricane Harvey put Houston underwater. Our team members' first priority was going out into their own neighborhoods. They shared food, knocked out soggy drywall, volunteered at pop-up shelters, looked after lost pets, and opened up their homes to flood victims. Two weeks later, our Florida teams went through similar boots-on-the-ground recovery efforts following Hurricane Irma.
In the months after those floods, there are fewer opportunities to help tear out drywall, but huge needs for ongoing support for families who are still displaced – most of whom we will never meet.
We're enormously grateful for our franchise system – about 150 small business owners who stepped up and organized their own Painting It Forward events for hurricane relief. Though they were far from the disaster of Harvey and Irma, the charitable paint nights they hosted last September brought in $20,000 for 501(c)3 hurricane relief funds! That equates to long-term impact for those in need.
In that same time period, donation add-on buttons on our website gave painters like you the option to donate a few dollars for hurricane relief. Through our website, you all helped us raise an additional $11,000 for Global Giving's disaster relief efforts.
CITY-WIDE FUNDRAISERS FOR SPCA
Earlier this year, our five Kansas City metro studios got together to host a multi-studio fundraiser for the Great Plains SPCA. Each studio hosted a paint-your-pet Painting It Forward event on the same day, and they all sold out weeks ahead of time!
Hundreds of Kansans turned up to paint their pets for the benefit of the Great Plains SPCA. Project Pet is one of most fun and most rewarding painting classes. Combine it with a good cause for homeless pups and kitties, and it's an unforgettable experience for painters, studio staff and non-profit workers alike!
NATIONWIDE FUNDRAISERS FOR LAS VEGAS
Some charitable painting events are all puppies and smiles, while others are more emotional. This fall, many of our studios hosted Painting It Forward events to raise donations for Commissioner Sisolak's Las Vegas Victims' Fund following the tragedy of the Route 91 Festival. The featured "Vegas Strong" was a beautiful custom painting by one of our Las Vegas studio artists. And though it was painted in many states, it's no surprise that it sold out our three Vegas studios sold out. Vegas residents turned up to show support, solidarity and strength together, balancing their emotion with optimism and encouragement.
Commitment to our communities takes all different forms, but it's something we try to live out all year, every year. Nationally and locally, we're always happy to partner with nonprofits for charitable paint nights. Check with your local studios to find out what Painting It Forward events are happening in your community!
Share Hurricane Harvey and Pinot's Palette | Find a Studio to Partner With