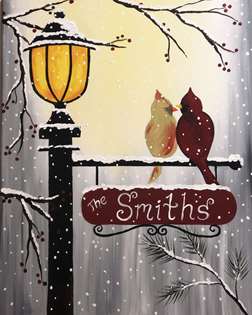 Cozy Winter Love
A warm glowing lamppost, new fallen snow, and the love of your life perched beside you. Cozy Winter Love. The perfect winter painting from December to March. The sweet sign can be customized with your last name, "Joy", "Believe", "Love", "Noel", "Winter"...so many possibilities!
Find events near me
Cozy Winter Love Events Near You
There are currently no classes offered in your location.
All Cozy Winter Love Locations
There are currently no classes scheduled for this painting.