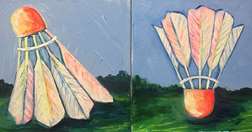 KC Shuttlecocks
Kansas City is home to 4 larger than life sized shuttlecocks that live in the Nelson Atkin's museum lawn. The artist Claes Oldenburg, meant to have them placed in such a way that the museum was referencing the net in a badminton game. Now you can paint your very own special KC landmark to have to keep for your personal collection.
Find events near me
KC Shuttlecocks Events Near You
There are currently no classes offered in your location.
All KC Shuttlecocks Locations
There are currently no classes scheduled for this painting.