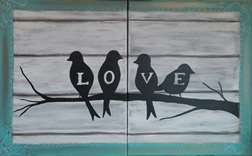 A Charming Love
Paint a simple scene of love birds perched on a tree branch in front of rustic wood plank wall, all wrapped in a charming turquoise frame. It is the perfect hint of rustic simplicity to add to your room.
Find events near me
A Charming Love Events Near You
There are currently no classes offered in your location.
All A Charming Love Locations