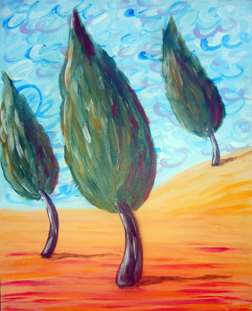 Standing Firm
These vibrant trees are blowing in the ice-blue wind and enduring the red-hot earth. It's almost like they're belting "I Will Survive" from their fortified branches! We predict a fun rendition of Gloria Gaynor's hit song will be on request during this painting party.
Find events near me
Standing Firm Events Near You
There are currently no classes offered in your location.
All Standing Firm Locations
There are currently no classes scheduled for this painting.