Decorate Your Home With Your Handmade Artwork!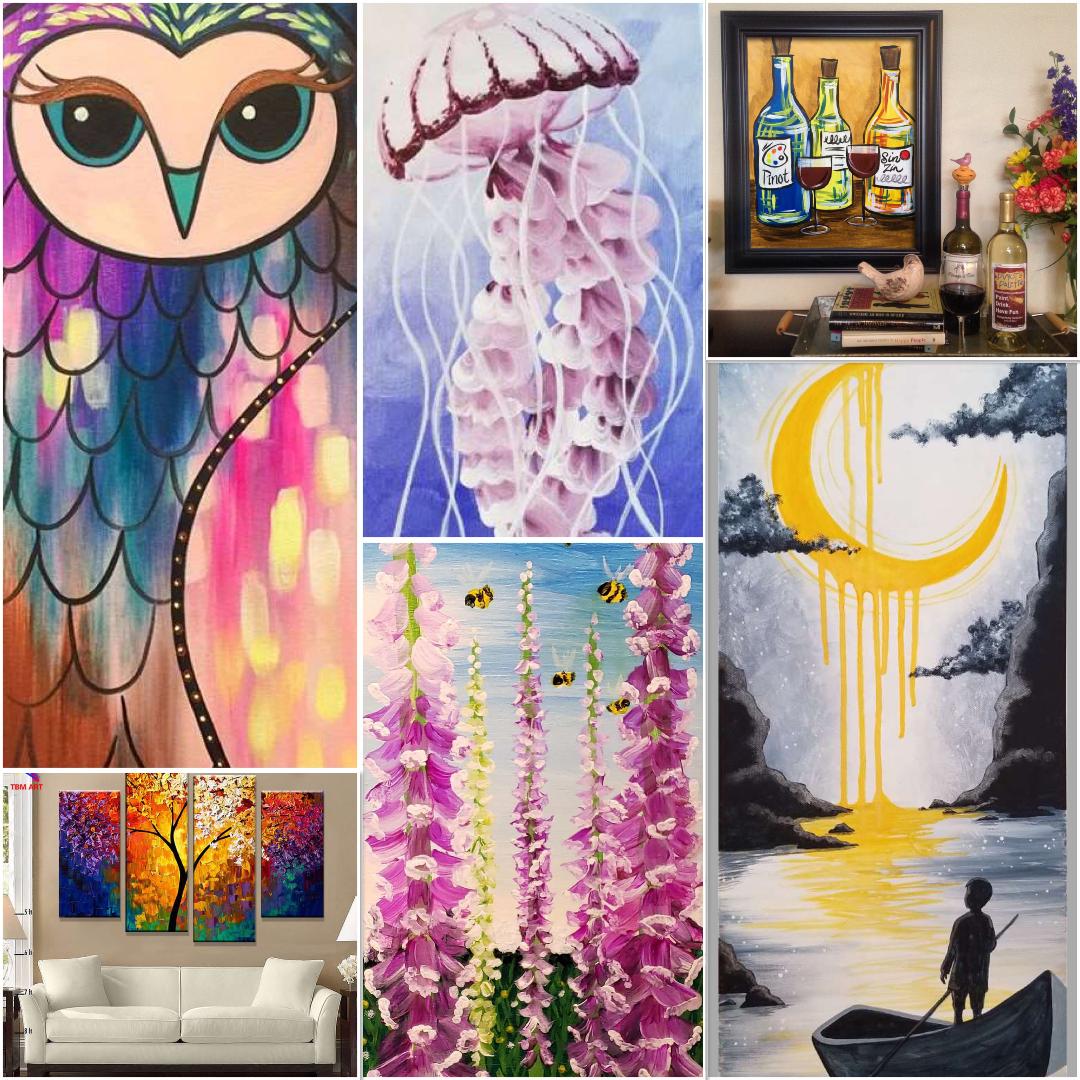 When you come in for a painting class at Pinot's Palette, you get to do something that you probably don't get to do enough of… Create!
We have a strong belief that ANYONE can paint and that we all have an artist, within us. Whether you think you can create a work of art or not, we ask you to put your trust in us for just a 2-3 hour class, and we'll show just how easy it is to make a painting of your own.
The best part about being walked through a painting, step-by-step, is taking it with you to put in your home, bringing color and style into any space you display it. There are so many great ways to use art in decorating, and tying a room together in perfect harmony; From hanging it on a wall, to sitting it on a table, and even placing it in a large collage for a dramatic effect, art is the best way to make a house a home!
We believe that art is a very personal thing. Whether you're the artist who is pouring their heart and soul into the piece, or the buyer who is finding a connection in a work of art that you're eager to add to your home, there are a lot of wonderful ways to show it off.
We'd like to give you some ideas about how to best display your work, as well as mention some of the upcoming classes, featuring some fabulous paintings, just waiting for you!
While we've aways offered our original 16" x20" canvas, throughout the past year or so, we've been experimenting with adding new styles of artwork to our calendar! Unique classes featuring long canvases and square ones, wine bottle decorating, blanket making, wooden pallet paintings, and more have been popping up across Pinot's Palette studios across the US, gaining popularity along the way.
****Some of our most-loved classes are the paintings that are created on a longer sized canvas, measuring 10" x 30".
This is such a fun size to display in small spaces, in 2's or 3's, place on a mantel or console table, or even to give to someone special as a gift!
-- Here are some of the upcoming long canvas paintings we're offering:
August 21, 'Opulent Owl'
Opulent Owl is a great painting for any type of painter. This painting is super fun and easy to change up the colors to make it your own! If you love Opulent Owl by herself, check out her painting mate titled, 'Opulent Owl Mates.'
* Think about how perfect this painting would be in a nursery or a childl's room! Alter the colors to match your decor to let it flow with the color palette of any space!
https://www..../event/338069
August 24, 'Country Meadow Foxglove'
A colorful homage to summer days in the PNW country made on a canvas with unique and accommodating dimensions. Bright foxgloves in bloom always come hand-in-hand with the buzz of busy bees. While the clouds on these hot days remain wispy and few. This is a great painting for spring and summer or just for when you need a little more sunny days in your world.
*Drink special: It's Mimosa Morning! Your first mimosa is complimentary!
https://www..../event/342036
August 26, 'Dancing Jellyfish'
A whimsical jellyfish dances in the deep. Customize your jelly to match your own personal style!
*This is the perfect painting to display in a beach-themed room! Beach house owners and ocean lovers will enjoy creating this masterpiece and displaying it in their living space to tie the room's theme together!
https://www..../event/345393
August 31, 'Dreams Of Lunar Streams'
A fantastical childhood adventure is portrayed in this surreal landscape, featuring the silhouette of a young boy traveling by boat in a stream that leads him to an unexpected source.
*Drink Special: Bottomless mimosas or sangria- $13 per person.
https://www..../event/342166
September 4, 'Raspberry Rosettes'
Grab a glass of wine and enjoy painting these Raspberry Rosettes!
*Who doesn't LOVE a good floral painting? This ever popular subject has been painted for centuries, changing and evolving in many ways throughout time, yet always staying the same in other ways.
Picture this beauty as a gift for you daughter to hang in her dorm room, for you or a friend to hang in their office, or for a grandmother who would love a pop of color and modern flair in their home!
https://www..../event/346266
September 5, 'Pleasantly Pumpkin'
Bring some glamour and whimsy into your holiday décor with this monogrammed stack of pumpkins in stylish fall colors!
*Our Fall-themed artwork is coming back and it's among our most popular paintings of the year! Customize this one with your family initial, name, quote, or anything else you'd like!
https://www..../event/354018
September 10, 'Pile Of Pumpkins'
This shiny pile of metallic pumpkins is sure to brighten up your fall!
*This stunningly elegant artwork will look incredible in any room. Flowing with the theme of Autumn, this beautiful painting of pumpkins will add a festive flair in a modest way.
https://www..../event/346287
September 17, Folk Art Flag
This artwork will be painted on a wooden pallet!!! Rustic and chic <3
Looking for the perfect rustic chic flag for your home decor? Look no further! We've got you covered in creating your very own, easy to achieve folk art flag.
*This flag will look great around the house, all year long, and especially during American holidays like 4th of July and Memorial Day!
https://www..../event/346292
AND MORE!!!
*Be sure to keep an eye on the calendar as we're always adding to it as the weeks go on. We'll be offering many more long canvases, along with other unique classes like wooden pallet paintings, customizable artwork, blanket making (these are super popular so be sure to sign up ASAP), and more!
((You can view our entire calendar on the link at the bottom of the page))
Remember to have fun while you're making art, and even more fun, adding it to your home to always remember the memories you made, creating it!
****Don't forget about our SUMMER SALE, going on throughout the rest os August! When you buy 3 seats, you get the 4h one FREE when you enter the code: SUMMERVIBES at checkout! The more the merrier! Bring your friends and family in to spend time together in a fun and creative space with this sale! Who doesn't love to save money?!!