10 Quick Home Decor Ideas
If your home décor feels a little stale, but you don't have the time, patience, or budget for a major redecorating project, you're in luck! There are tons of quick, easy, and inexpensive ways to update your décor. Rather than buying everything new, try to upgrade, upcycle, and revitalize what you already have and only buy a few new items to complete the look.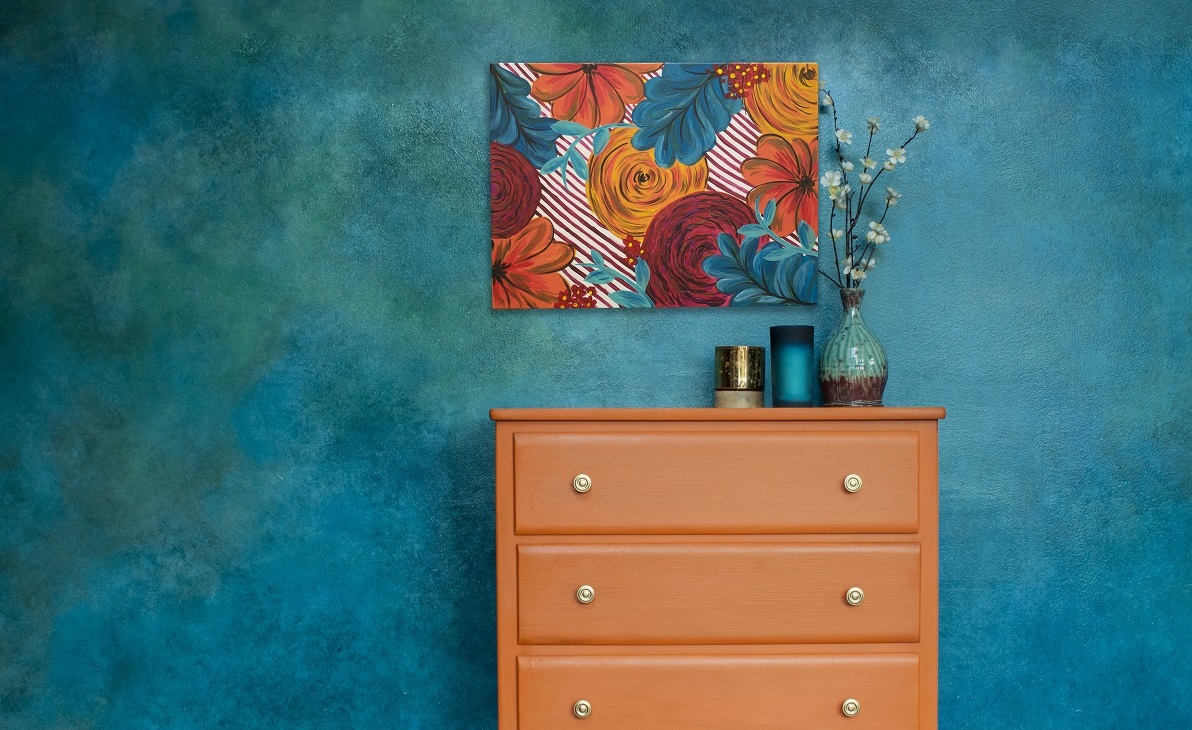 REFINISH AND REFURBISH
Got an old piece of wooden furniture that has good bones but is in rough shape? Refinishing it is easy and doesn't cost much. Choose a bright shade of chalk paint for a modern pop of color, or if you like natural wood tones, consider stripping the existing finish and refinishing it in a more current shade.
UPGRADE LIGHTING
New lampshades are a quick way to change the look of a room, with no tools or DIY skills required. Create mood lighting by switching bright white bulbs for soft white and swapping in new lampshades in a more current style or a warmer color. You can also use fabric to re-cover existing lampshades.
COVER IT
Covering furniture you're tired of looking at is the simplest way to change the look of a room. A new tablecloth in a fun pattern is a quick fix for a table that's seen better days, and a throw blanket draped over the back of a tired old couch will work wonders to brighten up a room (or camouflage damage done by an errant toddler who found a Sharpie… not that we're speaking from experience.)
SLIPCOVER IT (JUST HEAR US OUT)
While the word "slipcover" might bring to mind Grandma's plastic-covered "fancy sofa," just hold up. These days, there are actually a lot of well-fitting fabric slip covers that can transform an upholstered piece for minimal cost and effort. The stretch microfiber variety fits snug enough that it doesn't look like a slipcover, and can probably squeeze a few more years of life out of a couch you previously wanted to kick to the curb.
DRESS IT UP
If the solid-color bedspread, throw pillows, curtains, or table cloth you thought looked clean and minimalist a few years ago just seems dull and plain-Jane now, update it with a DIY design addition. Embroider, stamp, or screen print a design onto your existing plain textiles to give them some wow. You can also create interest with custom iron-on appliqués designed on a Cricut or Silhouette Cameo machine… or even paint directly on the fabric.
PAINTED ACCENT WALLS
Painting an entire room is both a hassle and a commitment, but one high-visibility accent wall makes a big difference. It's also easier to pull off a bold color when it's only going to be on one wall than an entire room.
PAPERED ACCENT WALLS
As a society, we've recovered from the nightmare of 1980s wall paper. This stuff is making a huge comeback and is now sold in lots of fresh, fun patterns that are nothing like what you grew up with. A wallpapered accent wall is a good way to incorporate pattern and texture into your decor, and hanging wallpaper isn't difficult – especially when it's just one wall.
LOOK UP
Feeling ambitious? A painted ceiling is an unusual way to add interest to a room and change the way the light looks. (This works particularly well if you've got coffered ceilings. Not so well if you've got popcorn ceilings.) Opt for a neutral color in a metallic finish, or really go for it and paint a blue sky with clouds if your design tastes run toward the whimsical.
If you think painting the ceiling seems like a disaster waiting to happen, opt for a vintage look with tin ceiling tiles reminiscent of an Art Deco grand hotel lobby. They can be painted any color prior to installation! If you're afraid of commitment, there are faux tin tiles made of Styrofoam that you can buy online for a fraction of the price. After all, nobody will be able to tell the difference from the ground.
SWITCH PLATE AND HARDWARE UPGRADES
Upgrade your builder-grade switch plates and outlet covers for a more bespoke look that ties in with your décor. Maybe that means metallic, mirrored, wood, patterned, or painted covers. These are only a few dollars at any home renovation super store, and take minutes to install with just a screwdriver.
Swap out boring cabinet hardware while you're at it. Faux crystal drawer pulls can elevate an Ikea dresser from drab to fab, and switching a mismatched metallic finish for one that matches your doorknobs and plumbing fixtures will give your home a more cohesive look.
ADD ART
A large piece of art can serve as the focal point of the room, bringing out colors you like in the rest of the space and focusing the eye away from things you'd rather not draw attention to. Place an oversized piece above your mantel, behind the sofa, or on an otherwise-bare wall for maximum impact.
Share Painted Furniture How-To | Textured Accent Wall How-To