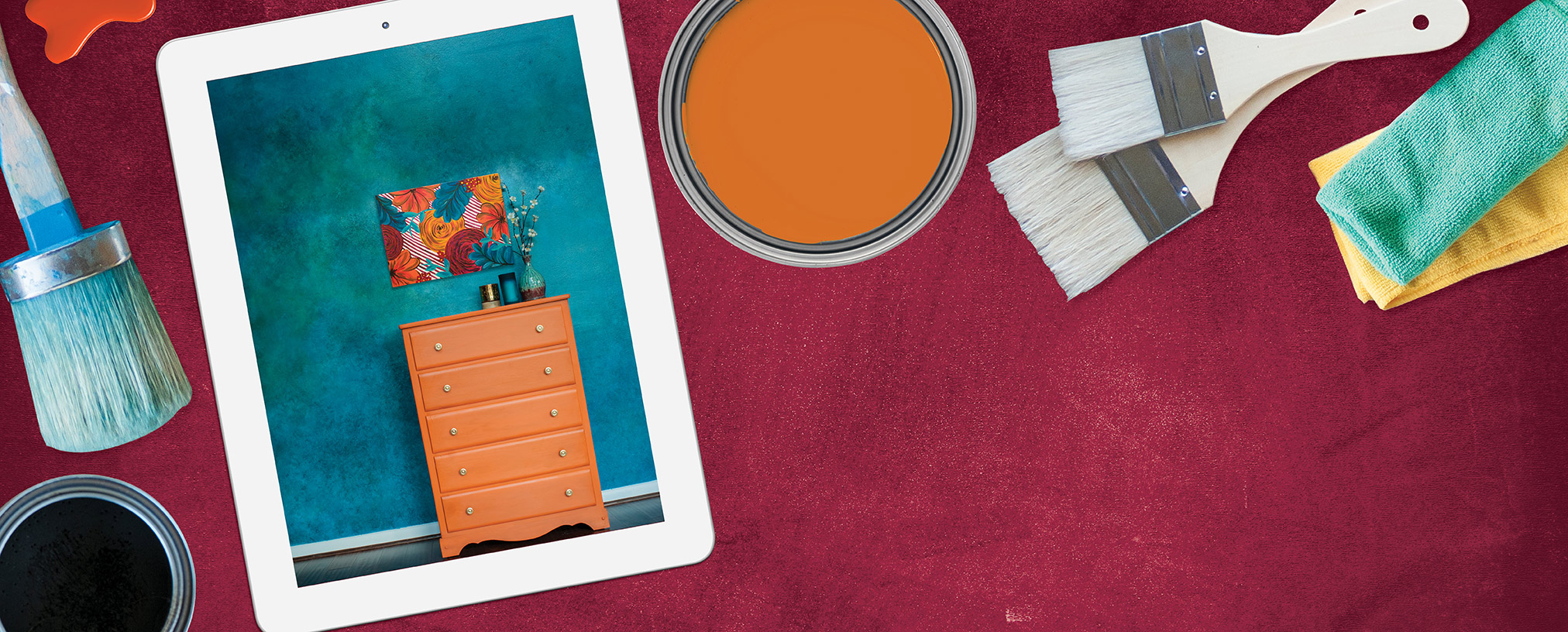 PAINTED
DRESSER

Have an old dresser in need of some TLC? Want to add a fresh burst of color to your home or make a bold statement? This is an easy project anyone can do in a weekend. Pick your favorite bold color, pour a glass of wine and follow the steps below.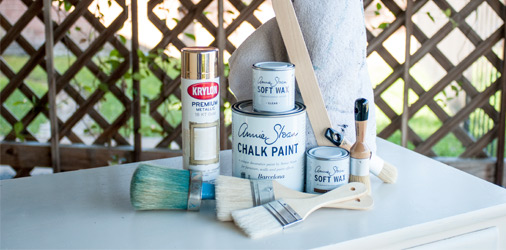 DIY PAINTED DRESSER SUPPLIES LIST
Here are the supplies we used:
• Solid wood dresser
• 1 can of 32 fl. oz. of Annie Sloan Chalk Paint® (we used Barcelona Orange)*
• Annie Sloan Soft Wax in Clear 4.22 oz. mini can**
• Annie Sloan Soft Wax in Dark 4.22 oz. mini can**
• 3" and 2" inch natural bristle chip brushes
• 1 large Annie Sloan oval shaped wax brush
• 1 pack of FolkArt Home Décor Paint & Wax Brush Set
• Krylon Premium Metallic 18KT Gold spray paint
• Small washcloths (at least 3)
• Large drop cloth
• Wooden paint stir stick

*Your paint MUST be chalk-based. Make sure the can states that no sanding or stripping is required.
**The wax can should specify that it can be used on chalky paint.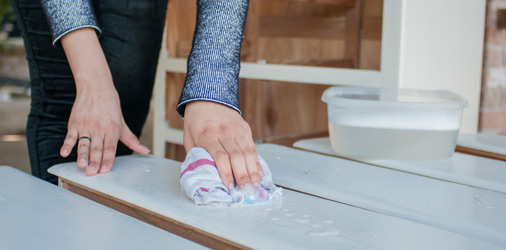 1. PREP THE DRESSER
Dampen two cloths, one with mild dish soap and one without. Use the soapy cloth to remove dirt and oils. Use the other damp cloth to remove any soap. Finally, use a clean, dry cloth to dry the dresser.
Lay down your drop cloth, place the dresser on it, and remove the hardware and drawers.
Pro Tip: Don't use oil-based cleaners like Pledge or lemon oil. They prevent paint from adhering to the surface.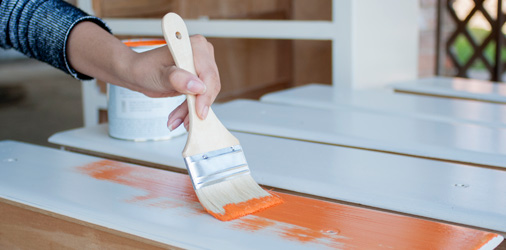 2. PAINT!
Stir the paint well with a stir stick. Use long horizontal brushstrokes and very light pressure. Chalk paint is thick and will leave lots of brush marks! A distressed shabby chic dresser probably just needs one coat of paint, while something more modern or glossy requires two.
We started with the drawers, painting the inside frame of the drawers first. Then we painted all four sides and the top of the dresser. Finally, we painted the outside front of the drawers.
We used two coats for everything, allowing 1.5 hours between coats for the paint to dry.
Pro Tip: Watch for straggler bristles, which need to be removed promptly from wet paint.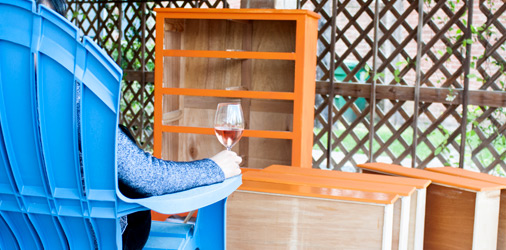 3. ALLOW 24 HOURS TO DRY
This is the hard part. Before you apply the wax, give the piece about a day to dry and set. This helps keep the wax from muddling the color or vibrancy of the paint.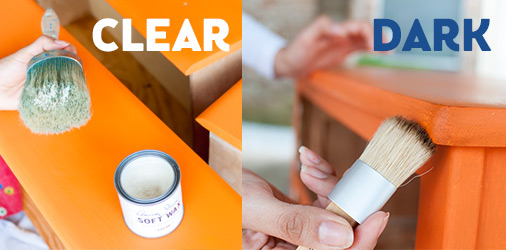 4. WAX THE DRESSER
With a round wax brush, apply clear soft wax all over the piece. Make sure you apply a smooth, even coat. Allow about an hour to dry.
The dark wax creates a slightly distressed look. You can skip it and just use the clear if you want a more polished look.
Use the smaller wax brush to add the dark wax. A little goes a long way here: Use the dark wax only in small areas, and use a VERY SMALL AMOUNT. Once the wax dries, use a clean, soft cloth to buff it for a nice shine.
Pro Tip: Apply the dark wax where the dresser will naturally get wear and tear, like corners, near the hardware and on top.
5. FINAL TOUCHES
What you do with your hardware depends on the style you're going for: Leave it as-is, paint it or replace it entirely.
We wanted a touch of glam, so we painted our old dingy hardware to a shiny gold. As soon as it was dry, we reinstalled it and slid the dresser drawers back in to see the whole, gorgeous, finished piece.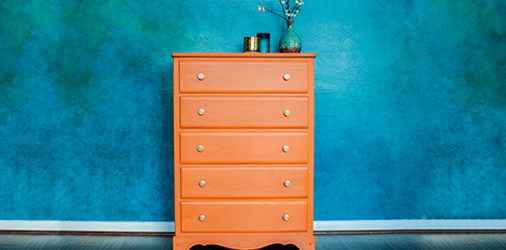 STYLING TIPS
Whether you chose Barcelona orange or another hue, your painted dresser now belongs in a bold room. Set the piece against a complementary, brightly colored accent wall and position it near a window for maximum impact. Then top your dresser with candles, painted bottles, artisan pottery or fresh flowers in colors that balance the wall and furniture colors.
When decorating with bold colors, it's best to add natural touches like botanicals, florals, woven baskets and natural woodgrain to bring softness into the room.