Going Big with Patterns
Decorating with patterns can go so right and so, so wrong. Mixing patterns is a home decor skill that takes either practice or luck to get right.
Patterns should convey a personality of their own: Fun, bold and cheerful; classic and subdued; thoughtful and artsy; modern with rustic hints; or flashy and fancy.
It's easy for a space to look chaotic if patterns are used wrong. Here are a few tips for decorating with patterns to get the look right.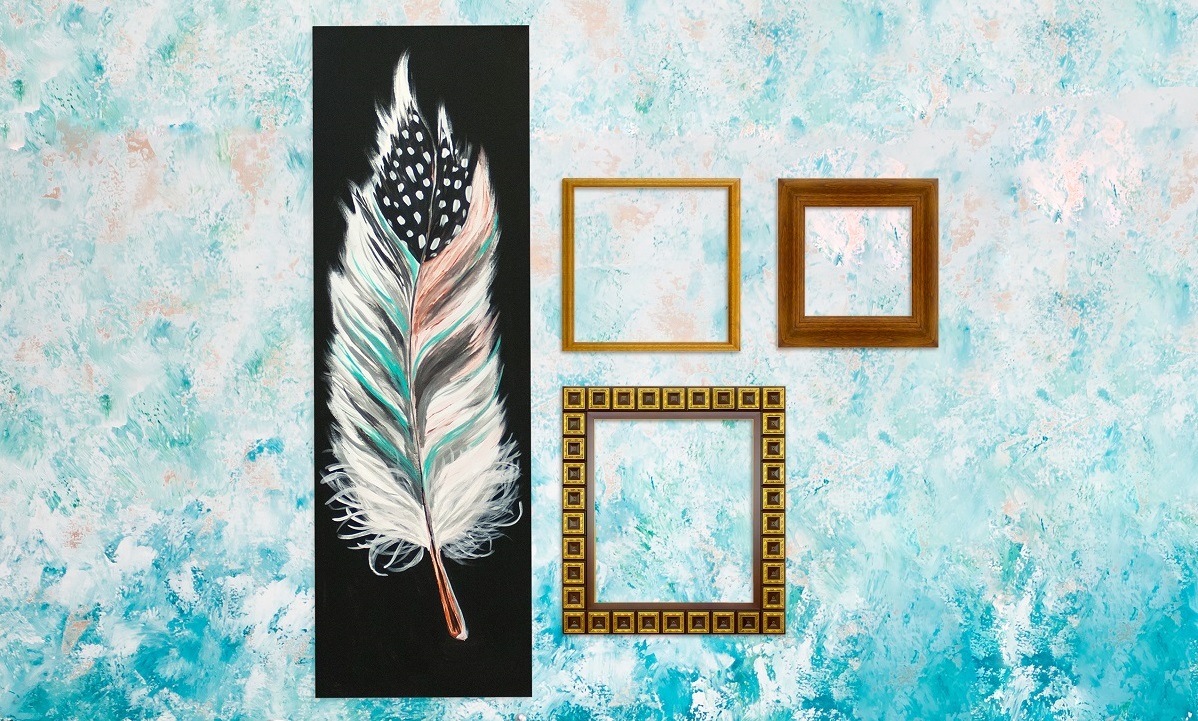 START BIG
Starting too small with patterns never has the effect you want it to. But that doesn't mean you have to go pattern-crazy.
It helps to have one patterned item in mind as a jumping-off point for the rest of your room decor choices. Pick a large-scale pattern you love as your primary one, and base your second and third patterns off that.
A good rule of thumb is to choose one "busier" large pattern, like a paisley or floral, as the primary, and then stick to more basic patterns for the other two. This works really well if you go with one print that's striped, polka dot, chevron, or plaid, and one that's very small, so that it almost looks like a solid color until you get up close to it.
In the example above, the textured wall serves as the primary pattern, and the feather painting was selected to match. Because the colors in the painting match the wall, and the texture in the painting is much smaller than the wall, the two don't clash. This same idea could be repeated with a patterned sofa and matching accents, or a vibrant rug and a complementing chair, or any number of arrangements.
Too many big, busy patterns together would compete with one another and be a general hot mess. Choosing simpler secondary patterns in the same color family allows you to have fun mixing and matching while still keeping the space cohesive and calm.
CONSIDER TEXTURE AND MOOD
Certain fabrics have a more luxurious texture and finish than others, and it's important to keep texture and overall "mood" of the pattern in mind when you're selecting fabrics. Damasks, brocades, silks, and anything with a bit of a sheen comes across as "fancier" and works well in a more formal room. Casual cottons, linens, and knits give a homier feel to a relaxed space.
Similarly, some patterns give off a vibe that may not work with the theme you are going for. Gingham is cutesy and casual, polka dots can be very juvenile if you're not careful, and toile is associated with a shabby chic or French country look. Textured fabrics with a pin-tuck, ruched, or gathered finish, are a good way to add visual interest without bringing in too many colors.
The same applies to paint colors for wood furniture, accents and walls. The sheen of the paint, the texture of the paint application, and the texture of the object's surface all play together to set the tone for the room.