DIY - Not Just Your Grandma's Hobby
Are you a closet crafter or HGTV junkie? There are a lot of us out there that love crafting and DIY home decor projects.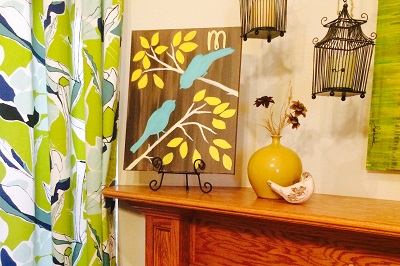 If you have on occasion painted furniture or are pretty handy with a screwdriver and drill, then you are probably part of the growing trend of DIYers who enjoy hands-on home improvement and decor. You don't need to aspire to the level of creativity achieved by a Joanna and Hilary to create beautiful spaces in your home. Whether you're looking to infuse your own personality into your space or to just save a few dollars by taking on a project by yourself, there are lots of resources for instruction and inspiration, from your local home improvement store to Pinterest and online how-to videos. And once you've completed your project, there's nothing more satisfying than sharing your creativity with others. If your project is shareworthy, take the opportunity to brag a little. Post it to your network, tweet it or put it on Instagram!
Another way to personalize your home is with artwork created by you! Pinot's Palette is featuring three paintings this fall that can be personalized to fit your decor. And to emphasize the point, each painting comes with a guide for an easy DIY project to enhance the painting. Check out our DIY classes on September 3rd and 30th and watch for our next DIY painting on the October calendar.
If you're looking for some additional inspiration, here are a couple of our favorite DIY websites:
http://thein...iredroom.net/
http://www.curbly.com/