Sip & Shop at the Studio!
Join us on Saturday, February 25th for a Sip & Shop event at the studio!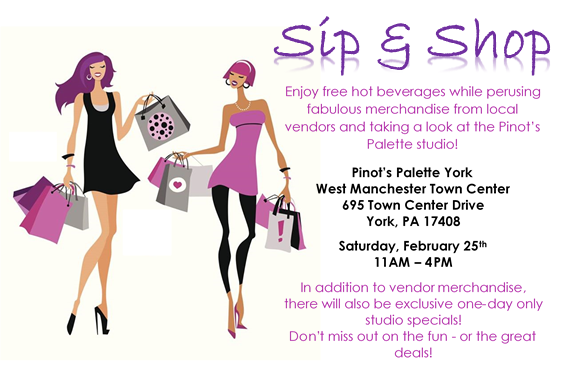 Check out the studio as well as merchandise from other local vendors who will be set up on site! Vendor items may be purchased on a cash n' carry basis and FREE hot cocoa and coffee will be available in addition to one-day only studio specials! This is such a great opportunity to see what Pinot's Palette York is all about if you haven't already, and if you are familiar with our studio, then to check out the exclusive promotions that will be going on, all while supporting other local businesses!
It'll be hard to find a better shopping experience - sipping a delicious beverage while leisurely checking out great products. That's tough to beat!
The following vendors will be featured at the event:
Legging Army
LuLaRoe
Paparazzi Accessories
Tupperware
Of course no purchase is necessary to attend, but we have a feeling that with these great vendors, you may not be able to resist. We hope to see you there!