How to Plan a Party Without All the Work
Pinterest-level theme parties take weeks of preparation, and most people aren't natural party planners or expert DIYers. This blog is for everyone who's ever had a Pinterest fail or ever forgotten to stock up on ice!
Here are a few ideas to take the stress out of hosting your next bash: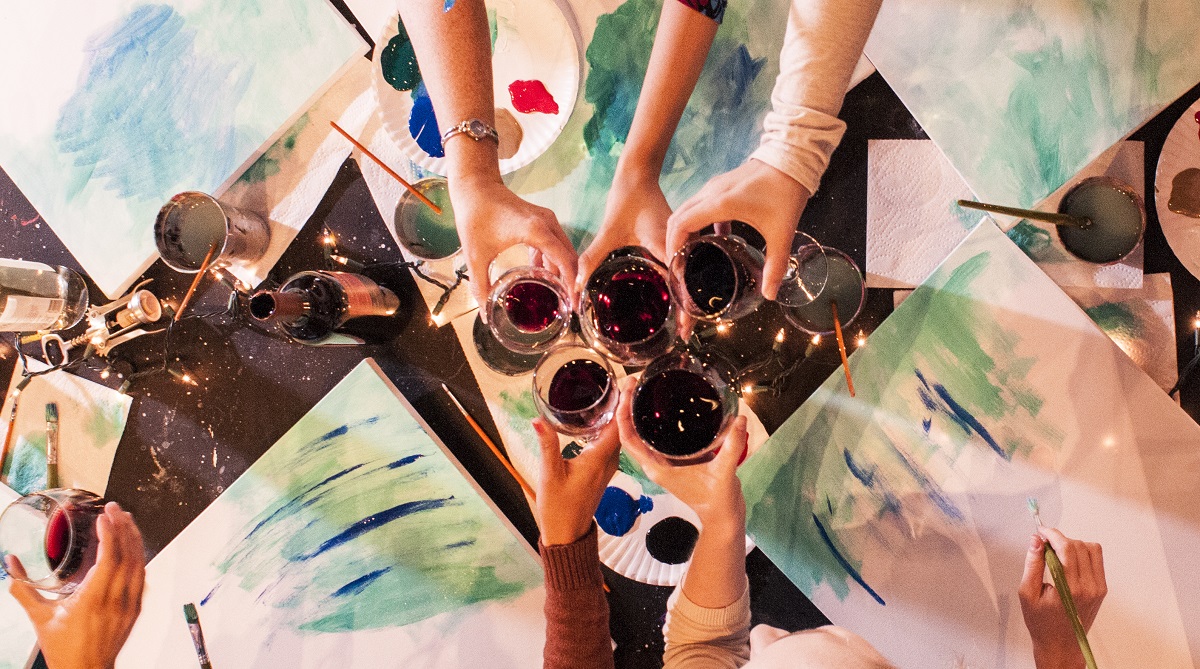 GO ON LOCATION
Half the stress of a party is having the house show-ready for your guests' arrival, and then cleaning everything up afterward. Save yourself the aggravation! There are other places to have a party besides your home. Parks, neighborhood community centers, restaurants, beaches, and entertainment venues are all good options.
For special events – like bridal showers, engagement parties, and birthdays – you can book a private party room at a nice restaurant… or you can think outside the box, and look into booking a space at local art gallery, museum, sculpture garden, or zoo. Obviously, a private painting party is always a great option too!
Bring a few decorations, choose a simple snack menu from a local caterer, and show up! No muss, no fuss, no cleanup – and best of all, no housecleaning!
OUTSOURCE
Best party-planning tip ever? Farm out as much work as you can afford. Make sure the tasks you like the least are on the outsource list!
Maybe you find cooking a drag but enjoy mixing cocktails. Hire a caterer, but make your own large-batch elixirs that can be prepared ahead of time. Get inexpensive, unique invitations from graphic designers on Etsy. Some sellers will even print, address, and mail them out for you.
If you're throwing the party at your own house, hire a cleaning service to come before the party so you've got more time to work on appetizers, decorations, and other fun stuff. Really want to take it easy? Have them come back the day after the party and return your house to pristine condition. It's like magic!
DIY-ISH
Maybe hiring a caterer is out of budget, but you still don't want to be in the kitchen all day. Call the cool local cafes in your area or check your grocery store's deli department for pre-made party trays of sandwiches, fruits and veggies, cheeses, and small bites. Feel free to plate them on your own serving dishes before the guests arrive – we won't tell! Prepared foods at a lot of higher-end grocery stores rival what you would get from a caterer, for a fraction of the price.
If you want something a little more exciting than cheese and veggie trays, pick up frozen hors d'oeuvres and desserts at a warehouse store like Costco or Sam's Club that caters to the food service industry. Pop them in the oven prior to the party and you'll have a memorable spread AND your house will smell delicious. Your guests will be impressed, but you don't have to spend all day in the kitchen.
Nothing tastes better than a margarita made with fresh lime juice, but who wants to sit around juicing limes? Natural food stores like Whole Foods and Sprouts sell a variety of freshly squeezed juices that are perfect for mixing cocktails. In addition to lemon and lime, there are exciting flavors like watermelon, mango, and pineapple – just perfect for cocktail mixing without all the prep. And no sticky countertops, whoop whoop!
Whichever methods you choose to cut corners, the important thing is remembering to relax and enjoy the party. Because when it really comes down to it, your guests are there to see you, not judge you over whether or not you made the guacamole yourself. There's no shame in stress relief. Party up!
Share Party Planning 101: Hostess Tips | Going On Location? This Will Help.