Holiday Cocktail Recipes
Holiday party season is in full swing, and what better way to get in the Christmas spirit than with some Christmas spirits? Here are a few of our favorite holiday cocktail concoctions – perfect to sip by the fireplace or wow your party guests.
These are also great cocktails for paint and sip, if your studio is BYO. You can mix your drinks in studio before the painting begins, or make at home, batch them up in a thermos, and garnish once your friends arrive.
Also, these holiday drink recipes are all made to taste. You'll notice the amounts are more "a little of this, a little of that" than "3.29 teaspoons followed by 2.5 finely crushed juniper berries." That's because these recipes either use a store-bought drink as a base, or they're super simple (i.e., impossible to mess up).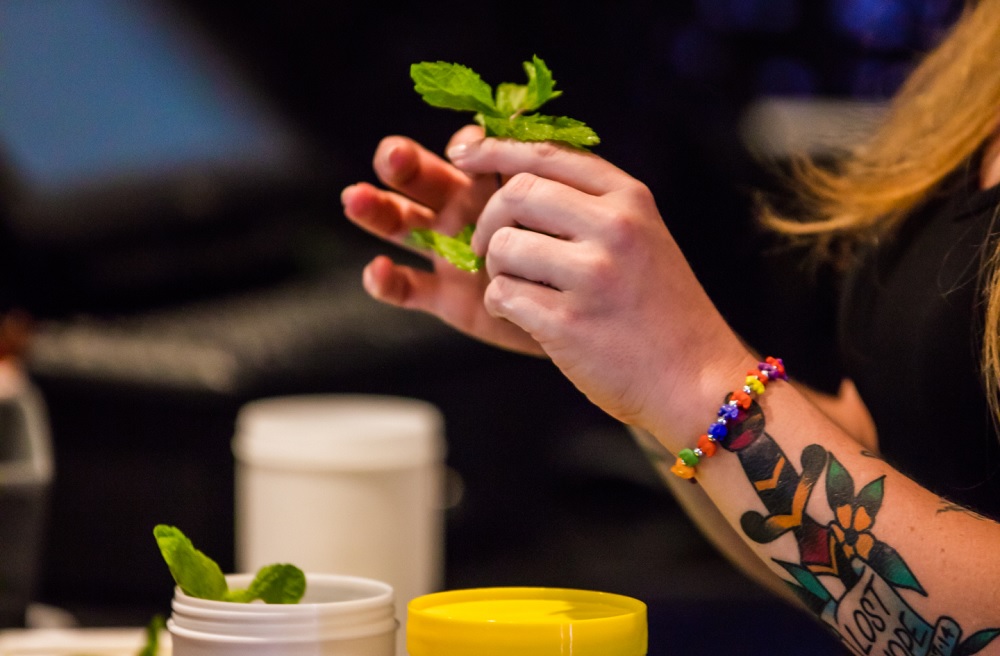 EGGNOG MARTINI
Plain old whiskey-spiked eggnog scooped out of a punch bowl not festive enough for you? Dress up store bought eggnog with a little brandy, amaretto, extra nutmeg and cinnamon. Add a scoop of ice cream if you're really in the mood to throw calorie-counting out the window.
Serve this creamy, spicy, boozy concoction in a sugar-rimmed martini glass. Garnish with a cinnamon stick and a whole star anise floating on top.
GLUHWEIN
Sure, wine is delicious at cellar temperature all year round, but hot spiced wine is amazing on a cold night. This German version is a huge hit at Christmas markets from Hannover to Munich, keeping shoppers warm on frosty days.
Using a crockpot or stove burner on very low, simmer cinnamon, cloves, cardamom, slices of orange and lemon zest, and a bit of sugar in a small amount of water so the flavors are extracted. Remove spices and add the dry red wine of your choice, a splash of orange juice, and a bit of brandy or amaretto. Prost!
POMEGRANATE MIMOSAS
Not up the task of mixing cocktails all night for your guests? Pomegranate mimosas are the perfect solution. Simply add a splash of pomegranate juice to a 3/4 full glass of champagne, and garnish with a few pomegranate seeds. Easy, pretty, and delicious!
CHAI TODDY
What's better than a warm, spicy chai latte on a chilly day? The same chai latte, with a kick!
Prepare the chai concentrate of your choice with milk according to the directions on the package, and add an ounce of brandy and an ounce of butterscotch schnapps to each mug. You can substitute a cinnamon schnapps or whiskey (such as Fireball) if brandy with butterscotch isn't your speed.
PEPPERMINT TWIST MARTINI
For a rich and festive adult beverage, combine equal parts vanilla vodka and Godiva white chocolate liqueur, and add a small splash of peppermint schnapps. (Don't go crazy with this stuff—it isn't made for lightweights.)
Shake over ice and serve in a martini glass. If you're really shooting for an Instagram-worthy presentation, crush up a few candy canes and use the crushed mints to rim your glass before filling.
HOLIDAY DRINK INSPIRATION
Feeling inspired? With so many delicious and delightfully easy holiday drink recipes, you're ready to throw an event even your grumpy neighbor or hard-to-please mother-in-law won't be able to complain about. (And if they do, mix them another cocktail. They'll be fine.)
Share Our Bartenders' Favorite Cocktail Recipes | December Paint and Sip Special