Margarita Makeover: Grilled Pineapple Cilantro Marg
If last week's blood orange mezcal margarita piqued your interest, you're really going to love this new twist on the classic Mexican cocktail. It'll take a bit longer to make than other margaritas, but the grilled pineapple and cilantro margarita is worth every extra second.
In this inspired version of the margarita, we combine the mouthwatering flavor of grilled pineapple with the herbal freshness of cilantro and tart lime. Trust us when we say it's hard to stop at just one!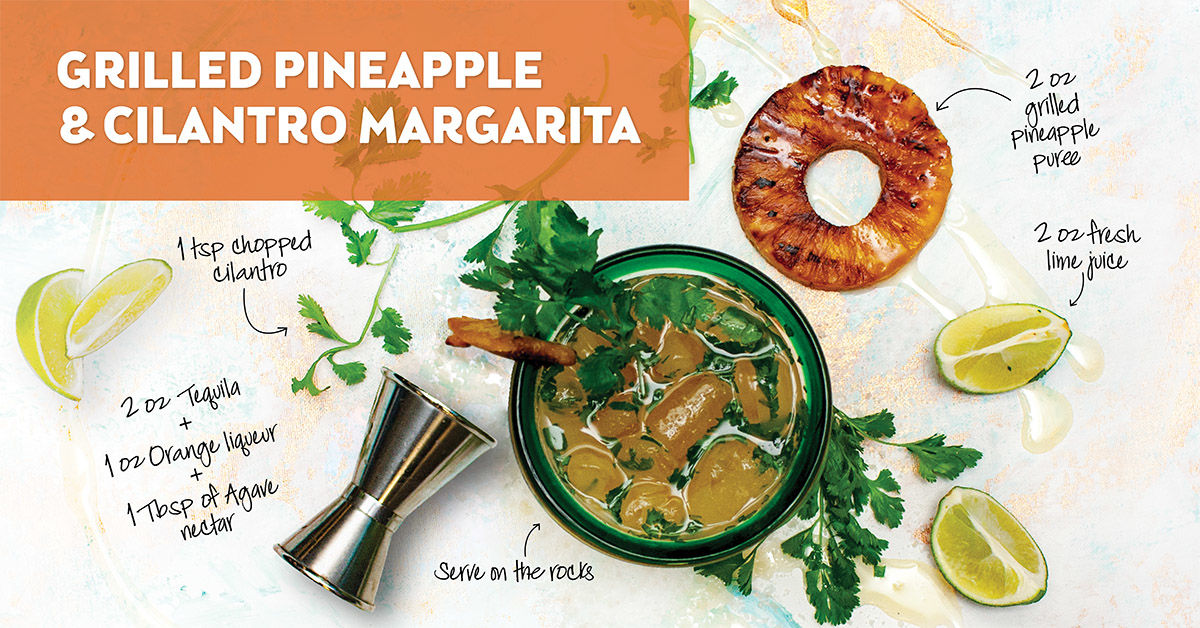 INGREDIENTS
(Makes 1 margarita)
• 2 oz. grilled pineapple puree
• 2 oz. fresh lime juice
• 1 Tbsp. sugar
• 2 oz. Tequila
• 1 oz. orange liqueur
• 1 Tbsp. agave nectar
• 1 tsp. fresh chopped cilantro
METHOD
Core and peel a fresh pineapple and cut it into slices. You'll need about four slices per drink, but go ahead and grill the whole thing for a second batch or for snacking. Sprinkle the slices with sugar and grill them for a few minutes until the sugar begins to caramelize. Resist the urge to eat all the pineapple immediately.
Puree 2 oz. of the grilled pineapple in a blender with the chopped cilantro. In a cocktail shaker over ice, combine the pineapple-cilantro puree with the orange liqueur, lime juice, Tequila and agave nectar.
Shake well, pour into a cocktail glass, and serve garnished with a pineapple wedge. To make your grilled pineapple and cilantro margaritas picture-perfect, sprinkle a few fresh cilantro leaves on top. Feel free to rim the glass with salt or sugar, depending on your preference.
NOTES
You're probably going to want to (at least) double this recipe. Mix up your second round and stick the shaker in the fridge until you're ready for it.