Date Night Options For You
If you are in the mood to plan a special evening out with your loved one, or want to impress that special someone on a first date, think about doing something that encourages conversation, learning something new, and can inspire creativity. Pinot's Palette offers art painting classes for all different artistic abilities. Our attentive and experienced artists will guide you through the painting process, helping you create a beautiful piece of art to take home with you. To make the evening more enjoyable you can bring your favorite beverages and snacks.
There are lots of ways to celebrate date night and here are some more ideas.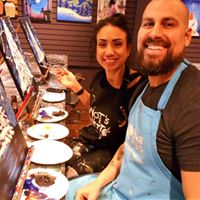 Meeting with your loved one does not necessarily need to be at lunch or at an afternoon movie. You can set it up late in the evening, maybe on a Friday night, after 9pm. It does not mean you have hidden intentions, especially if you choose a new place and not necessarily a restaurant.
At karaoke
Did you know everyone's voice sounds better after 1 o'clock at night? The scientific explanation is that vocal cords had time to warm up during the entire day. And if you also have a glass of whiskey, your voice will gain even more inflections. So... do spend some hours at karaoke! It will be fun even after 3 o'clock in the morning, even if there will be no one around to care about hearing you playing poorly.
At a movie
Few people go to a movie in the middle of the week, but you can be an exception. The cinema will be almost empty. Maybe you are even lucky enough to be just the two of you, which means that you can eat chips, laugh hard and talk loud about exciting scenes.
On a bike ride
If your significant one is a sporty person and you enjoy exercising yourself, then an evening jog at the park could be a perfect date. Alternatively, you can choose to ride the bike on the streets of the city and also take a few moments to admire the view that is revealed under the moonlight.
Share things to do in Wayne NJ for date night | date night art classes in Wayne NJ