Sip N' Score
We've got a super exciting event coming up, and you would be the perfect guests for it if you have ANY of the following dilemmas: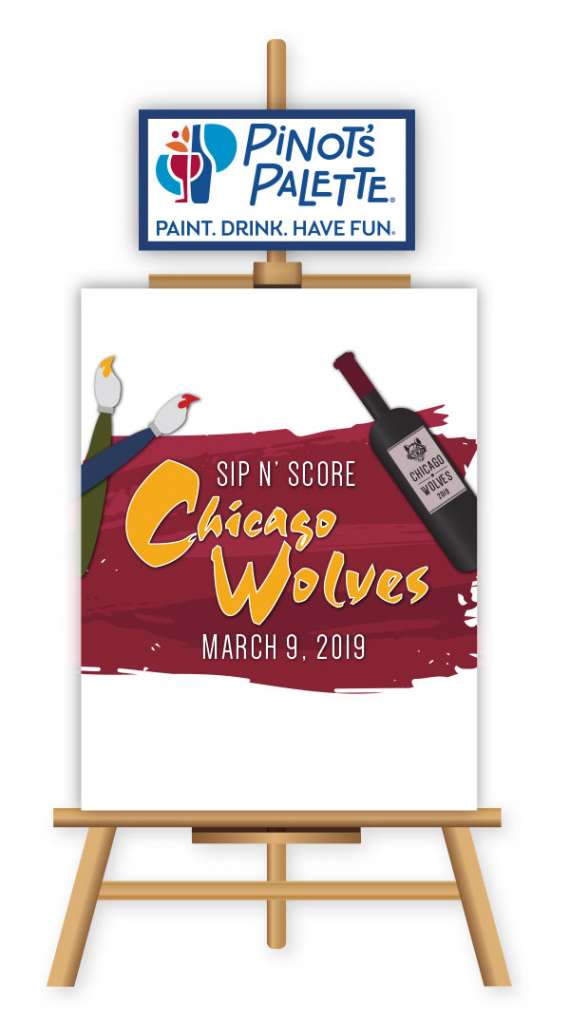 • You love hockey and you love painting. But no one ever thought sports and art could exist in the same room.
• You'd love to paint at our studio on the second weekend of March, but the Wolves game is happening then!
• You'd love to go to the Wolves game, but you promised your pals that you'd be down to try painting with them.
• You and your family can never agree on a weekend plan because half the family would love to see a sports game, and the other half would love to hit up a paint n' sip studio.
• You'd like to go to a hockey game -- but while tipsy on wine -- because you don't know how else to explain to your friends that you don't know how the game works. (We've been there.)
• You'd like to try painting -- preferably while tipsy on wine -- because you haven't picked up a paintbrush since kindergarten. (We understand the feeling too.)
• You have absolute no idea what you're going to do on March 9.
We have an excellent event that you can sign up for! Next month, on Saturday, March 9, we will be teaming up with the Chicago Wolves hockey team for our Sip n' Score event! At Sip n' Score, our artists will guide you step-by-step on how to paint a painting of the Chicago Skyline. This will take place in the Allstate Arena's Skyline room Included in the fee is two glasses of wine and a lower-level ticket to the Wolves game, which will take place right after our painting session!
So how do we make painting and a hockey game work? We ask that you arrive at 3:30pm to the Skyline room at Allstate Arean in Rosemont, IL. Parking is free! You'll also definitely be here earlier than those also going to the game later, so you can get good parking too. Our painting instruction begins at 4:00pm. We will have an instructor teaching the painting and doing it herself, and there will be other artists on the floor there to assist you if you would like further explanations or advice. During the painting, you are welcome to get your two glasses of wine. Our bartenders will also be there to serve you. Like most of the painting parties at our studio, this painting will take 2 hours and end at 6:00pm. During the next half hour, you will have time to put your paintings in the car and take a break. At 6:30, we will all be heading to our seats in the arena to get hyped up for the hockey game against Iowa Wild. The game starts at 7:00pm!
Interested in joining us for this fun night? You can look at more information and sign up at  chicagowolves.com/paint or  https://fevo.com/edp/Sip-N-Score--Iowa-at-Chicago-gfnhgoz. Packages start at $62 per person. Bring the whole family or all of your friends!
Questions? Call us! 847.730.5972