Friendsgiving & Wine Ideas!
Thanksgiving is right around the corner, and we're sure you're thinking about all the family and friends that you'll be seeing soon. But if you've got friends who aren't going home, hosting a Friendsgiving is a great way to make everyone feel loved and happy. We thought that some of you might be in a pinch to host a great Friendsgiving for your friends, so we got you a list of ideas for your own get-together!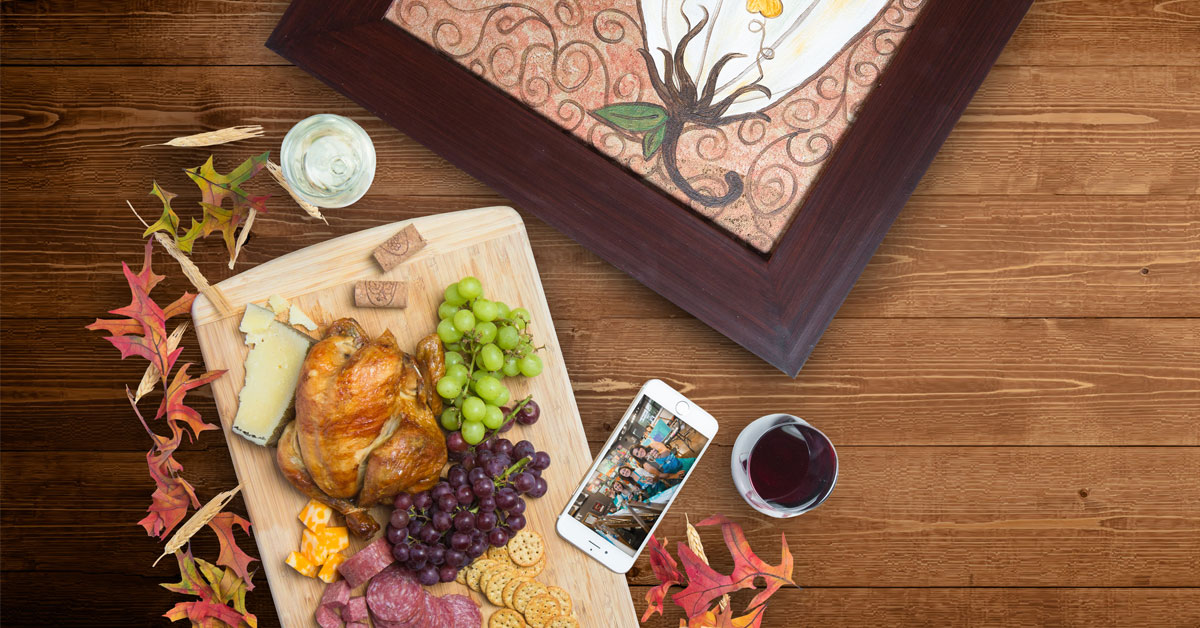 GENERAL SUGGESTIONS:
• If you're pinched for time, consider hosting a Friendsgiving brunch so that friends can come over and eat breakfast before going to other plans.
• Host a Friendsgiving potluck so that everyone can pitch in, and hopefully it won't put too much pressure on the host!
• If your Friendsgiving will include two or more groups of friends who don't know each other very well, make sure to mix up the table so that everyone can meet someone new – maybe even put out name tags or chair labels to make people feel like a part of the party.
• If you've got no space to host a party, consider partying in our studio! We do have a private party room at our paint and sip, so call us if you're hoping to get in a last minute party! We've got holiday mimosas and Glogg (warm wine) at our bar if you want to drink while you're at it!
• Want to paint and sip without the planning and hassle? Come with your friends to a public party! We've already got amazing paintings scheduled and always have a bar stocked with holiday drinks and other alcoholic beverages. Check out our event calendar online to see the winter-themed paintings we have on Wednesday, Friday, and this weekend! And on Wednesday afternoon, we do have an Open Studio; so you and your friends can come in anytime between 11am-3pm to do a $15 self-guided mini painting. You're more than welcome to bring your own snacks to our studio!
FOOD & WINE:
• If you don't have the time to buy and cook a turkey, we totally get it. Consider serving other turkey foods on the table – like teatime turkey sandwiches or even turkey bacon. If you're not into turkey, buying a mini chicken to bake is a nice meaty touch to the table without leading to too many leftovers for your fridge, especially if you have vegetarian friends and very few meat lovers.
• Have snacks on hand in case you're worried about not having enough food. People can do a lot of munching in between meals, so have out a few snack bowls and keep some bagged snacks like popcorn, pretzels, and more in your pantry just in case.
• Have a pie bar! Buy a couple mini pies of different flavors, and set up a corner just for them so people can try them all!
• Make a cheese platter with multiple cheese samples and a variety of crackers to eat the cheeses on.
• Apple Cider Sangrias: make apple cider sangrias using apple cider, white wine, caramel vodka, apples, pears, cinnamon sticks, and ginger ale! For a more detailed recipe, you can refer to the recipe we found on this link --
https://www....-pie-sangria/
• Mix apple cider and rum for a super quick autumn drink! (About 8 parts cider, 1 part rum!) Put in some apple slices and cinnamon sticks for a finishing touch.
DECORATIONS:
• Give everyone a space to reflect. Consider using brown paper instead of a traditional table cloth, so people can write down the things they're grateful for right on the table! If you're not into writing on the table, give everyone a piece of cardstock paper and a marker for them to reflect on the big and little things.
• Reuse any pumpkin décor that you had from last Halloween for your Thanksgiving table!
• Decorate the walls by collecting some of the beautiful autumn leaves that have just fallen to the ground (clean them and dry them first!) and maybe consider decorating the leaves themselves with golden glitter or writing the names of your guests on them.
• Create a Friendsgiving selfie station! Have a camera or Polaroid ready in the coziest corner of your house. Decorate it with fairy lights and Thanksgiving décor. Make sure it's got good lighting by a window.
• Print out some photos of you and your guests and hang them up on the walls. Leave a camera next to it, and write a sign saying "If we don't have any (or enough) photos together from before, let's make some memories now!"
• Put out a stack of containers next to the food as people are preparing to leave so that your friends can all split the leftovers.
Have Questions? Call us! 847-730-5972