Pinot's Palette Introduces New DIY Projects!
Pinot's Palette is expanding and offering even more fun projects to our class catalogue! In addition to our regularly-scheduled painting classes, we are excited to branch out into new crafts and activities! Pinot's is all about creating and having fun while doing it, so what better way to get creative than to try out something new? Now, not only are you able to come paint on a canvas with us, but you could also join one of our chunky knit blanket classes, paint serving trays, make a wood board from vinyl stenciling, customize a doormat, and enjoy one of our trivia nights. Pinot's Palette is offering something for everyone!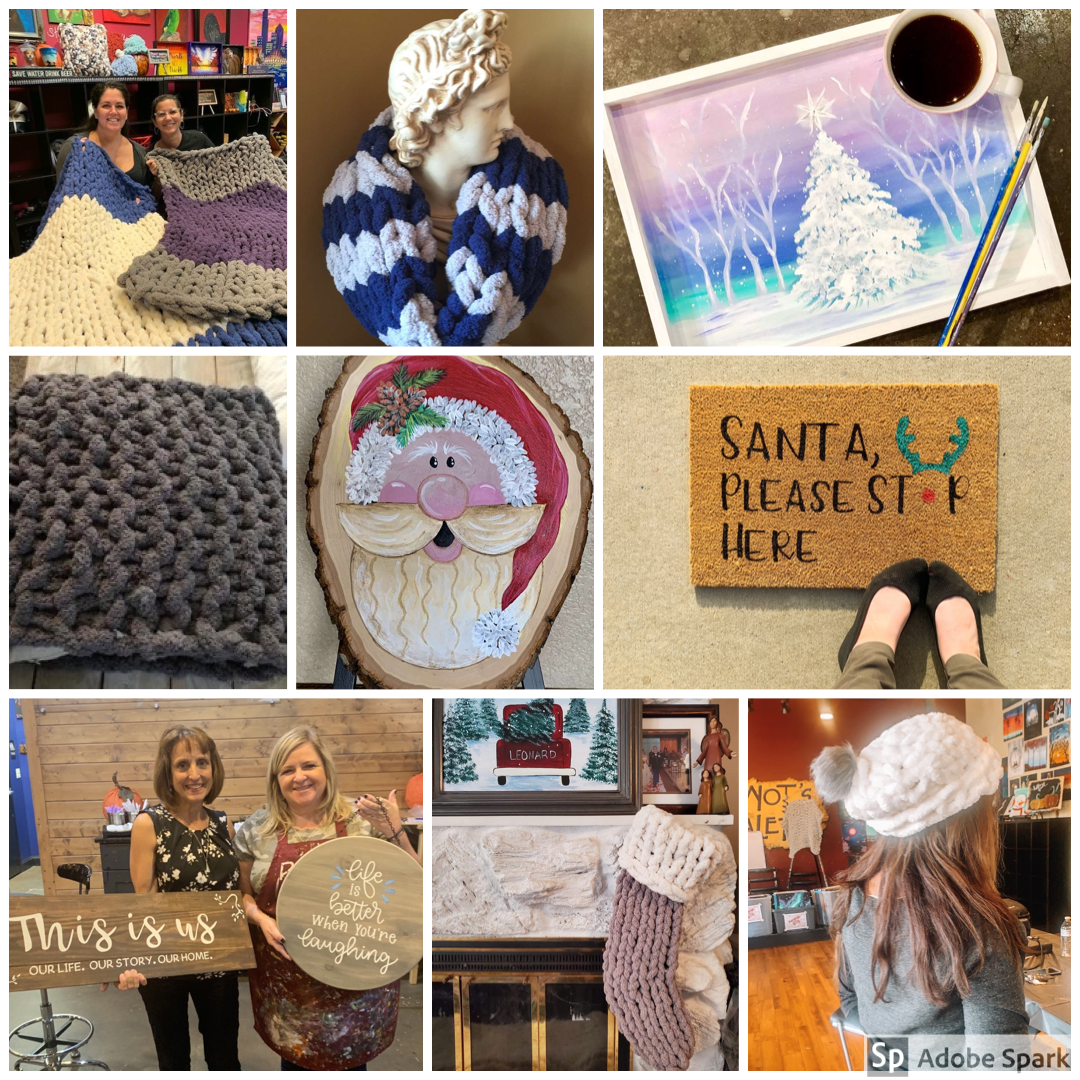 Getting Cozy With Our Chunky Knit Crafts
As the fall season gets colder and colder, now is a great time to bundle up in one of your own chunky knit blankets, pillows, and hats! No needles are needed to make one of these adorable projects, and no prior experience is needed in order to have a great time! Chunky knit blankets, hats, and pillows will make a unique and personal addition to your home and wardrobe. They are also the perfect gifts to give to a loved one for the holiday season. Speaking of the holiday season, come knit a Christmas stocking with us! You can also book a private family holiday party where everyone can knit their own cute stockings! These stockings will be sure to spread Christmas cheer for all ages, and they will look lovely hung up on the mantle. Be sure to check out our Christmas Stocking class on Thursday, November 14th, as well as our Chunky Knit Blanket class on Sunday, October 27th, and Chunky Throw Pillow class on Tuesday, October 29th!
Chunky Knit Blanket - Sunday, October 27th from 2:30 - 5:00PM
https://www..../event/353097
Chunky Throw Pillows - Tuesday, October 29th from 6:30 - 8:30PM
https://www..../event/377469
Chunky Knit Blanket - Sunday, November 10th from 2:30 - 5:00PM
https://www..../event/355349
Chunky Knit Stocking – Thursday, November 14th from 6:30 - 8:30PM
https://www..../event/375905
Chunky Knit Stocking – Saturday, November 23rd from 7:00 - 9:00PM
https://www..../event/379537
Chunky Knit Blanket - Saturday, November 30th 2:30 - 5:00PM
https://www..../event/355350
Create a Wonderful Wooden Sign
Are you looking for new ways to decorate your home? Now with our DIY Wood Sign Workshop, you can brighten up your walls with a cute wooden board. Our class will get your hands busy as you distress, and stain your wooden board before applying a stencil. Some of our design options include: "Home Sweet Home", "This Is Us", and "Welcome" (10x30 or 16x20). We can also arrange for a custom design, starting at only $10! Our studio lets you choose the stain and paint color for the lettering that you want on your wood board. Whatever you choose, your wood board will surely be a great addition to your home! Sign up for our next Wood Board Workshop on Friday, November 22nd!
DIY Wooden Sign Workshop - Friday, November 22nd 7:00 - 9:00PM
https://www..../event/372441
Try Painting on a Tea Tray
If you already enjoy painting on a canvas, then you will love painting a beautiful image onto a tea tray! These serving trays not only look like a work of art, but you can use them to serve drinks and snacks with your family and friends. We do shellac the trays after the painting portion is done, so you will have a clear coat finish and an easier time washing them (though washing by hand is still a good choice). They are beautiful and functional! Come paint your own tea tray with us on Saturday, November 2nd!
Scarlet Autumn Saturday, November 2nd from 6:30 - 9:00PM
https://www..../event/365567
Holiday Song Trivia - Saturday, November 30th from 6:30 - 9:00PM
https://www..../event/379543
Make a Do-it-Yourself Personalized Doormat
Want to greet your guests in your own personalized way? Come check out our new DIY Door Mat Workshop and customize your unique piece to add to your home. Custom designs start at $10. Feel free to get creative with it! These door mats will surely make your home feel more inviting to anyone who steps foot at your door! Join our upcoming Door Mat Workshop on Saturday, November 30th!
Personalized Doormat Workshop Saturday, November 30th from 3:00 - 5:00PM
https://www..../event/372442
Test Your Knowledge at Trivia Night
Bring along your friends to one of our fun trivia nights! Not only can you enjoy painting on your canvas, but you can let out your competitive side when taking on a series of trivia questions throughout the class! If you are really on your game, you might just end up winning an exciting prize! Our next trivia class is Friday, October 25th! Come join us for a night of Halloween fun (and feel free to dress up)!
Halloween Trivia - Friday, October 25th from 7:00 - 9:00PM
https://www..../event/355415
Bob Ross Trivia - Wednesday, November 13th from 7:00 - 9:00PM
https://www..../event/368796
And coming soon… painting on "Round Wood with Live Edge"
https://www..../event/379566
There are so many ways to get creative at Pinot's Palette and we would love to see you try one of our new classes!
Check out our December Calendar for more workshops and classes!