What Are YOU Doing For National Donut Day?!
EAT. ALL. THE. DONUTS.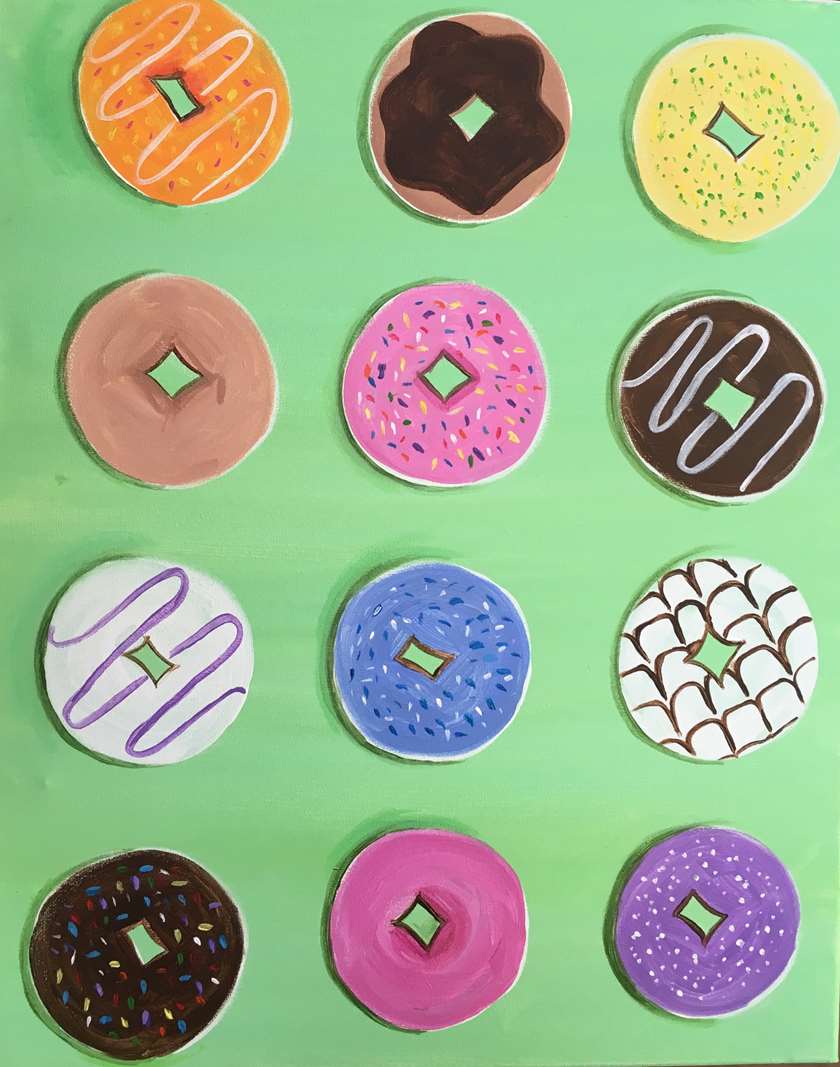 National Donut Day will soon be here and is one of those National, daily, fringe holidays that we can definitely get behind. From cake to raised, powdered to glazed, and everything in between, WE LOVE DONUTS! We're betting (pretty much) everyone out there feels the same… that love for the first bite of a warm, freshly-baked Krispy Kreme or the tiny crunch of a sprinkled donut, and how about the sweet, gooey icing on top or the creamy or fruity filling inside…. who doesn't live for the soft, pillowy texture of one of America's best-loved treats: the donut!!!
Celebrated in the United States, National Donut Day is held on the first Friday of June of each year, succeeding the Doughnut event, created by The Salvation Army in Chicago in 1938. Their goal was to help those in need during the Great Depression, and to honor The Salvation Army "Lassies" of World War I, who served doughnuts to soldiers. About 250 Salvation Army volunteers went to France and because of the difficulties of providing freshly baked goods from huts established in abandoned buildings near to the front lines, the two Salvation Army volunteers (Ensign Margaret Sheldon and Adjutant Helen Purviance) came up with the idea of providing doughnuts. These are reported to have been an "instant hit", and "soon many soldiers were visiting The Salvation Army huts". Margaret Sheldon wrote of one busy day: "Today I made 22 pies, 300 doughnuts, 700 cups of coffee." Soon, the women who did this work became known by the servicemen as "Doughnut Girls".
Many American doughnut stores offer free doughnuts on National Doughnut Day.
In Chicago and other cities, National Doughnut Day is still a fundraiser for The Salvation Army. In 2017, the organization joined with Russ's Market, Super Saver, LaMar's Donuts, Hurts Donuts and Krispy Kreme in Lincoln, Nebraska to raise funds on National Doughnut Day.
**See what's going on in and around your city for National Donut Day, Friday June 1 and stop in to some of these locations for some great deals!
https://www....e-fun-events/
((Remember that chain stores such as 'Krispy Kreme and 'Dunkin Donuts' always participate in this holiday)):
- Dunkin' Donuts: Customers will get a free donut of their choice with the purchase of any beverage on June 2. The deal applies all day to all participating Dunkin' Donuts across the country.
- Krispy Kreme: The classic doughnut chain is offering customers one free doughnut all day at participating shops in the U.S. and Canada. Hungry doughnut fans can pick any item from the menu for free.
How will YOU be celebrating this most scrumptious holiday???!
CELEBRATE WITH US!!!
Here at Pinot's Palette, we're celebrating National Donut Day on Saturday, June 2 and we want you to join us! We're painting (and eating) some deliciously sweet donuts and what goes together better than painting and donuts??….. painting and wine!
Join us from 1-3pm as we paint this colorful and tasty-looking picture of some donuts, featuring a spring-green background, covered with all the variety of these ring-shaped desserts, you can imagine! Customize this painting with the colors and decorations, representing your favorite donut flavors and make it extra-special to you!
You can visit our website to sign up for this special class, as well as viewing all of the other upcoming classes that we're offering. In addition to our pubic classes, we offer private events! Celebrate a birthday, engagement, retirement, bridal shower, and more with one of our private parties, booked online (or call/email for more information). If you're looking to take your business and employee camaraderie, up a notch, check out the corporate events we offer. We can provide you with some fun and practical team-buiding painting sessions that will inspire even the most unartistic of your employees!
Private parties:
https://www....ivate-parties
Corporate events:
https://www....porate-events
We hope to see you all on June 2 for our special class and even before that for one of the many incredible paintings we have coming up throughout all of May! Check out all that we have to offer through the link at the bottom of the page and sing up, today!
*BONUS donut treats:
If you want to enjoy all the of deliciousness that donuts have to offer but need a little recipe modification, try one of these:
-10 Perfect, Gluten-Free Donut Recipes
https://glut...-free-donuts/
-10 of The Best Vegan Donut Recipes
https://www....ghnut-recipes
"Had a great time! This was my first time painting since "paint by number" as a kid. Didn't know it would be so much fun."
-Fonda B.
Share Sign up for this delicious class HERE | View all of our classes HERE