What Are Some Creative Ways To Celebrate Friendsgiving This Year?!
Thanksgiving is a time to be thankful for our family and friends!
Traditionally, Thanksgiving Day is spent with family, but throughout the years a new unofficial holiday has become increasingly popular: 'Friendsgiving'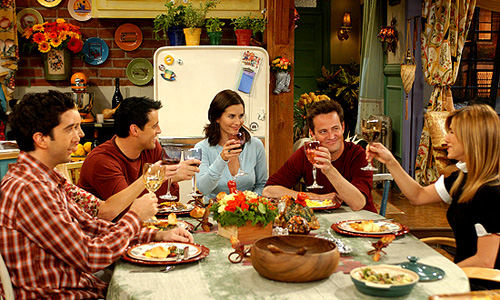 'Friendsgiving' is (traditionally known as) the celebration of Thanksgiving dinner with your friends. This usually occurs on the Wednesday before or the Friday after Thanksgiving Day, since Thanksgiving is usually reserved for family gatherings. It's probably obvious that the name 'Friendsgiving' is a mashup of "friends" and "Thanksgiving," and the idea is to spend an evening with the holiday's classic dishes and your best buds. There isn't a strict, enduring set of guidelines—Friendsgiving is a completely-customizable modern tradition that's taken off in recent years.
Many people are quite serious about their Friendsgiving celebrations. Online you can find tons of articles on 'how-tos', sample menus, rules, and even commandments for Friendsgiving, but when this unconventional holiday first came into use, it was used to describe something much more informal than the traditional Thanksgiving meal. It's all about what the day and celebration means to you and your loved ones. You may have a long-standing tradition of fun or the day with your bffs or you might be looking to start this heartfelt tradition, this year for the first time!
Remember there are no set rules to the tradition of 'Friendsgiving', as it's truly just meant to spend time with your friends and being thankful for all that you share.
So, what are some great ways to celebrate, 'Friendsgiving' this year?!
-WITH A PAINTING AND WINE CLASS
-BOOK A PRIVATE ART PARTY
-GIVE A THOUGHTFUL GIFT TO YOUR FRIENDS
We're here to offer you a new activity to add into your annual Friendsgiving traditions: A painting and wine class!
There are a variety of ways to utilize our services during the holidays, as well as any other time of the year!
Whether you want to join in with friends in one of our public classes or rent our studio space to plan a private party with the guest list of your choice, we can accommodate you!
When you book a private party with us, you get the use of our studio and supplies, the painting of your choice taught by one of our artists, and to select the day and time for your event!
***A PAINTING AND WINE CLASS***
Here are some great reasons to join us in one of our PUBLIC CLASSES for your Friendsgiving event:
(1) It's a great way to spend time with loved ones as you embark on a new adventure together and learn to paint!
It's important to take some time out of life's hectic and demanding schedule and spend time with loved ones, especially this time of year. Try out a new and exciting type of activity and see what comes out of it! You might discover that you or someone else in your group has an great artistic ability, hiding within them, and just needed a push to find it!
(2) You leave with a souvenir, serving as a reminder of the great time you had, making some artwork and precious memories!
When you go to dinner or a movie, fun as it may be, at the end of the night, you're only left with some leftover food or boxed candy. When you leave a painting and wine experience, you get to take home the fruit of your labors: a handmade work of art! Take your masterpiece home to hang up and show off to everyone who sees it!
(3) You'll meet new people and be surrounded by others who you can draw inspiration from!
Our classes are filled with people that aren't a part of your groups of friends. We always encourage everyone to walk around the class during the breaks and took at the other paintings! You'll love to see how each person's painting is different from yours and everyone else's and that's one of the best parts about these classes, in our opinion! Seeing how each artist in the class, interprets and executes the painting, is super interesting to see and a great conversation-starter to meet some new people!
(4) It's a new way to spend a fun night out!
This unique and creative experience is something new to try for your and your group. Take a break from the typical night out at the bar, where it's too loud to hear one another, or the movies, where it's too quite to talk to one another at all! Come in and paint while you talk with friends and enjoy seeing the end result of everyone's hard work!
(5) It's all the rage!
Painting and wine classes have become increasingly-poplar throughout the past few years! Be a part of the trend and dive in, attending as many classes as you want, gaining confidence and building knowledge painting techniques, every class that you attend! Post your pics to Facebook or Instagram and watch the compliments, roll in!
Join us for any of our upcoming classes and bring your friends and family along to participate with you! You can view our full calendar on the link at the bottom of the page to see what paintings will be offered throughout the next few weeks!
***We're offering a spectacular, family-friendly class on Wednesday, November 21, titled, 'Pumpkin Patch Fun'. Come in one this day before Thanksgiving to paint and have fun with all of your loved ones, including any out of town guests that might be visiting!
'Pumpkin Patch Fun' is bright and cheery, showing off the spoils of an autumn harvest. This is a FAMILY STYLE CLASS. Ages 6+ are welcome. This class is perfect for a Thanksgiving or Friendsgiving Celebration! Come in and paint this super cute painting with a neutral, polka-dotted background and some vibrant pumpkins, in front, that's sure to bring joy into any room of your home!
*View details and register here:
https://www....ts%2Fnovember
BOOK A PRIVATE PAINTING AND WINE PARTY!
In addition to our public classes, which are available to everyone, we offer private parties! You can book our studio for a private event where you and the guests of your choice will enjoy some wine and painting in a fun and creative environment! Come in with your group of friends to celebrate 'Friendsgiving' in a fantastic way!
Here are some excellent reasons who you should choose a painting and wine class for this year's 'Friendsgiving Celebration' with a PRIVATE PARTY:
(*Or for any occasion you want to celebrate with a private event!)
(1) YOU are in charge of everything!
From the date and time, to the painting selection, it's whatever your heart desires! You can choose the food and wine, the music, and more! Specify the entire event to the needs of you and your guests!
(*Be sure to ask us for suggestions on the best, local places to cater for your event. While the food is something that you will order and purchase, outside of our studio, we can offer ideas to help make it easy for you! Or bring in your own food, potluck style!)
(2) It's easy on the party planner!
We are here to help you, the whole way. Just email or call us, and we'll help you set the party up, keep in contact with you the whole time, and have everything set up and ready to go when you arrive! Let us know what you need, as we are here for YOU!!!
(3) It's fun!!!!
Seriously, what's better than food, wine, music, and spending time with friends, painting?! Not much!
It's been proven than painting is good for your health, as it's a relaxing and mindless activity that calms, soothes, and encourages creativity. Experience all of that with your loved ones and it's sure to be a night to remember!
(4) It's different.
Be everyone hero when you plan this unique and thoughtful party concept! People will love trying something new and leaving with something they created with their own hands!
(5) It's trendy!
Be the coolest party planner around and have your guests giving you non-stop compliments on how great it is that you found such a neat idea! While many people have heard of a paint and sip class, many have still never done one. This really is a fresh and fun idea for any one, at any age and any paint skill level.
Give it a try... all the cool kids are doing it. :)
WITH A THOUGHTFUL GIFT OF LOVE
*Show the friends in your life, just how much you love and appreciate them! Come in and make a painting to give to the host of your Friendsgiving dinner, someone special who has helped you a lot this past year, or to give to anyone, "just because"!
-Gift Ceritifcates
Keep our gift certificates in mind for an easy-to-buy gift that anyone will enjoy! Buy them for friends and family who live in another state so they can attend a class or get them for loved ones who would love the gift of spending quality time, partaking in a new experience! Buy a bunch and keep them on hand for the perfect Christmas gift!
*Purchase a gift certificate:
https://www....-certificates
-Make a painting as a gift
Nothing says, "love" like a handmade gift from the heart. The recipient will appreciate and cherish your beautiful work of art and will think of your and your beautiful friendship, every time they see it. The time and effort that goes into a homemade gift is nothing short of spectacular and is incredibly thoughtful; Give the selfless gift of your time and effort to someone special!
(*Remember to keep our 'Open Studio' classes in mind; You can create a painting from our library that you know your friend would love, but perhaps isn't on the calendar before Thanksgiving…)
We hope you'll join us soon at Pinot's Palette in St. Louis Park, whether you're coming in to celebrate 'Friendsgiving' or just joining us for one of our classes, for any reason! We'd love to help you book and organize your private party or corporate team building event and assist in easing the stress in planning a party. If you're on the fence about booking an event with us, stop in for a public class to get a feel for what we do and if we're a good fit for you and your party needs! We think you'll be impressed and eager to come back with your friends and family to celebrate something spectacular!
If you live in or around St Louis Park, Minneapolis, Edina, Minnetonka, Bloomington, or St. Paul, come in for a class and see what we're all about. We think you'll have a blast and want to come back again to try out another type of painting! You'll have fun creating some original, handmade artwork for your walls, as we take you from 'blank canvas' to 'masterpiece' in a 2-3 hour session! You'll be amazed at what you'll create and the fun you'll have, creating it, when you join us for a class where you'll paint, drink, and have fun!
*Learn more about our corporate parties:
https://www....ivingthisyear