Date Night At Pinot's Palette!
If you're looking for a fun and unique place to go for your next 'Date Night', look no further than Pinot's Palette!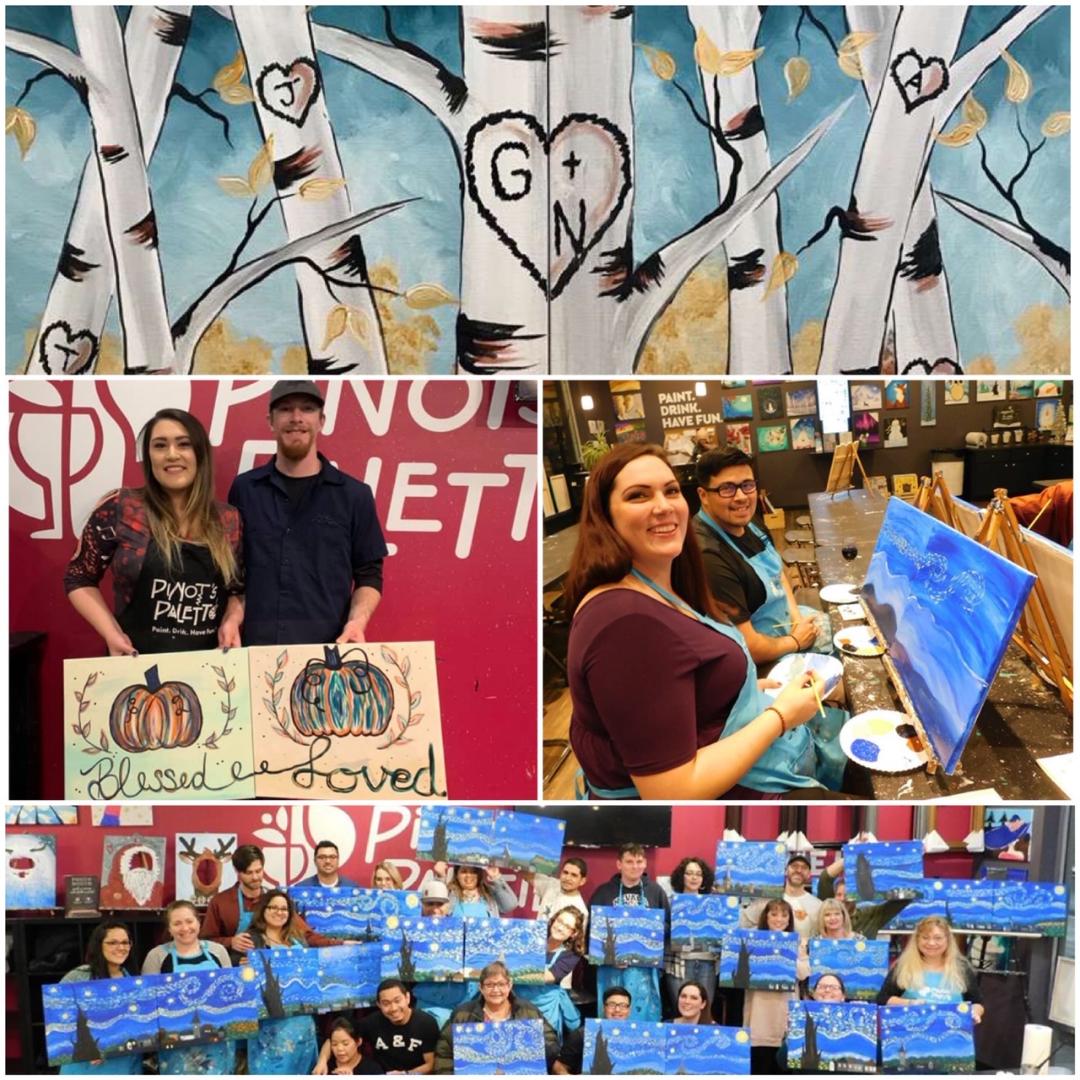 Our painting and wine classes make such a great way to spend time with your special someone, whether it's a first date or your spouse of 40 years!
While dinner and a movie are always a good, classic date night idea, it's hard to get to know someone new or reconnect with someone during a movie. A class at our studio is unique, fun, creative, and the best part is you'll leave with a hand-painted masterpiece to always remember the night by!
If you haven't seen our 2-canvas 'Date Night' classes on the calendar (or have seen them but never attended one), you might be wondering how they work. One person will paint half of the artwork on their canvas, while the other person creates the other half on theirs. Push them together at the end of the class to reveal a large, collaborative work of art!
Take it home to hang up together, or let each person leave with their half to take with them and always remember the other person, each time they look at it.
*Keep in mind that while our 'Date Night' classes are set up as a 2-person painting, you can certainly come in alone or with friends (or a date), and paint the entire painting on your own canvas.
*Who says your 'date' has to be your significant other?! Come in with your bff, roomie, family member, or anyone else that you want to share half of a painting with!
— Join us for our next 'Date Night' class —
November 16th 'Carved In Love' Date Night
*This is a 2-canvas painting!* (Shown, above)
This beautiful birch tree date night painting can be customized for each couple. Putting your initials, kids initials, dog or cat paws or a special saying or date, makes this such a fun and creative date night for everyone.
*Sign up:
https://www..../event/372097
— More Paintings That Would Make. A GREAT Date Night! —
*While we usually have a 2-canvas date night on the calendar, ANY of our classes make for a great date night idea. We've listed just a few of the many upcoming classes that would be fun to attend with a date; Remember that, truly, any of the paintings we offer are fun to create, and can be turned into a 2-person masterpiece, as well.
Landscapes are the easiest ones to split in half; If you and your date are interested in anyof the single-canvas classes, but eager to paint it on two canvases, let us know and we'll give you some tips on how to do so! :)
11/11 'Friendship Birds'
This lovely painting is a celebration of friendship, but for many of us in relationships, we consider our significant other to be our bff.
How sweet would this painting look with the 2 love birds, nestled close, with a customization on the sign?!
Add the word 'Love', a family name or initial, you and your sweetie's name, or a favorite quote to make it even more special!
https://www..../event/372227
11/13 'Watercolor Woodlands'
Made using techniques similar to watercolor painting, this acrylic woodland scene is a serene landscape that's easy to make your own, and fun to create.
This painting depicts the rustic and relaxing landscape of a forest and lake for him, designed in the light and pastel watercolor shades for her! A match made in Heaven!
https://www..../event/372230
11/15 'Emerald Bay Sunset'
Enjoy this beautiful black light painting that captures the majesty of Emerald Bay at sunset!
**It's a BLACK LIGHT PARTY at Pinot's Palette!
Imagine the fun and excitement of painting under the glow of the black lights with the one you love most! Bring in your significant other, or a first date, to make a great impression!
https://www..../event/372116
11/16 'Autumn Trail'
This is one of our new paintings and a lovely one for this time of year! Take a stroll down this fantastic autumn trail as you paint in the colors of Fall; Warm reds and golds, with some dark accents, fall around the road that leads to anywhere you can imagine.
This painting would look so pretty in a large format, created on two canvases, and hung in your home this time of year (or all year long)!
https://www..../event/372078
11/23 'Under The Harvest Moon'
Bask in the harvest moon glow with this painting to celebrate the spirit of Autumn.
The stunning colors in this masterpiece, absolutely glow! The technique for the sky is fun to make, and the radiant full moon is the center of the painting with it's bright glow and realistic colors.
Another one that would look incredible, created across two canvases. <3
https://www..../event/372102
12/2 Chunky Blanket Class!!! **Back By Popular Demand!
*Note: These special classes have been VERY POPULAR, so be sure to sign up, ASAP, to reserve your spot!
Make some warm and cozy blankets then take them home to snuggle under with your sweetie! These will be perfect for those chilly nights!
During this one-of-a-kind event, we will guide you step-by-step through hand knitting a warm, soft chunky knit blanket. No needles or knitting experience is required and all supplies will be provided.
https://www..../event/382892
_____________________________________________________________________________
***Remember that you can book your annual holiday party with Pinot's Palette! Get started now to resave the date and time you want for your event, and you'll be ahead of the game with your party planning!
-Learn more about these creative and unique, festive events
https://www....holidayparty-