🍸 Yes, We Have A Bar! 🍷 Our Menu!
Fine beers and wines are available for purchase by the glass or bottle at our fabulous Wine Bar, and we also have non-alcoholic beverages! We also have the ability to stock some of your favorite wines and beers upon request, so just let us know what you like!
Some of our customers have asked why we have a bar instead of being BYOB. We are pleased to offer our Wine Bar as a convenience to our customers that will save you valuable time and money! We stock our drink selections wholesale from the same distributors as other local bars, restaurants and supermarkets....and guess what? It costs the same or less to buy from us.
Bring your own snacks or favorite foods. We provide everything else needed for an entertaining art experience. BYOB Not Permitted.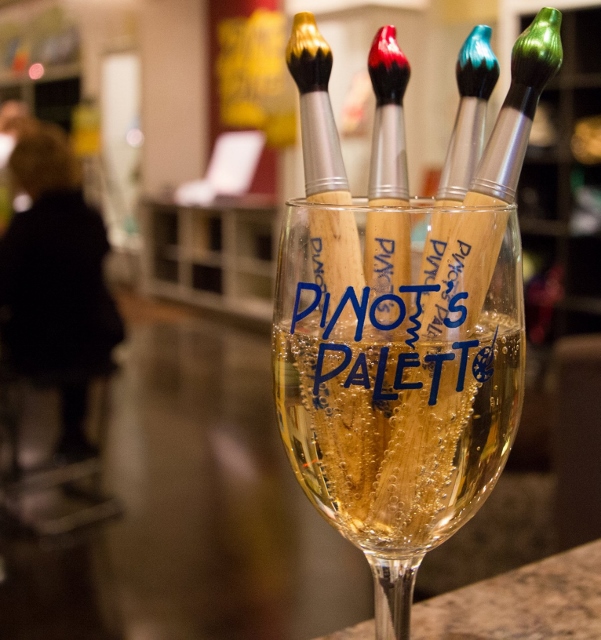 General Pricing: $ingle Digit = Single Serve; $$Double Digit = Bottle
Drink selections subject to change without notice.
-----------------
WHITE WINES:
Mimosa in souvenir wine glass, $9
Mimosa, $6 and $17
Myx MOSCATO: Variety Flavors, $6 (small), $9 (med) $12 (w/ souvenir glass)
Lolea WHITE SANGRIA, $7, $18
RIESLING, California, $6, $18
Floral, rich ripe melons, and peaches
Barefoot PINOT GRIGIO, Calif, $6 and $18
White peach, melon, citrus, & tropical
Barefoot CHARDONNAY (Single), $6, $18
Fruit infused flavors, smooth creamy
Korbel CHAMPAGNE, $8
Barefoot MOSCATO, $6
Crisp, refreshing sweet
Stella Rosa MOSCATO D'asti, $6 and $17
Semi sweet, bubbly, crisp
-------
RED WINES
ChocoVine CHOCOLATE or RASPBERRY, $17
Dutch chocolate blended with French Cabernet Sauvignon
Stella Rosa BERRY or PINK, Northern Italy, $6
Light sparkling wine, semi sweet
Barefoot CABERNET, MERLOT or PINOT NOIR, $6, $18
Lolea RED SANGRIA, $18
Myx SANGRIA: Classic, Tropical, or Redberries, $6
Refreshingly Bubbly
Stella Rosa ROSSO, Northern Italy, $6 and $18
Mild, semi-sweet, best chilled
-------
BEERS:
Blue Moon, $4
Bud Light, 3
Bud Light LIME, $3
Miller Light, $3
Fat Tire NB, $4
Blue Moon, $4
REDD's Cider, $3
Beer Buckets (5): Lites, $12; Kraft, $15
-------
FROZEN WINE DRINKS:
Pina Colada, Strawberry Daiquiri, Margarita $6
-------
OTHER: Coke, Diet Coke, Gingerale, Dr. Pepper, Juices & Sparkling Water and Juice Drinks, $2
Enter your contact info and request details below, and we will contact you with details about your private party!