Disconnect to Reconnect: Fun Activities to Explore in Charleston
We have many days of warm weather and bright sunny skies right around the corner with spring and summer seasons quickly approaching. It's time to start planning fun activities to do with family and friends. Disconnecting from technology to reconnect with the people that matter most makes for creating memories that last a lifetime!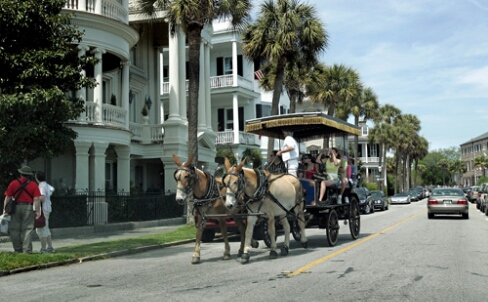 Here are a list of activities you can do in Charleston that would be fun to attend with friends. We challenge you to spend at least one day a week technology-free. Turn off those cell phones, log out of your social media accounts, and give your loved ones your undivided attention. Technology can be a huge distraction without even realizing it, so plan to do a fun activity completely eliminating technology so you can make the most of the experience.
Paddle boarding
There are several paddle boarding options in Charleston, from paddle boarding in Shem Creek, to paddle boarding in the Harbor downtown.
Festival of Houses and Gardens
Charleston's historic district is home to houses with distinctive architecture and award-winning gardens. Every spring in March and April the Festival of Houses and Gardens provides a rare opportunity to tour these beautiful private residencies.
Carriage Ride
A horse drawn carriage ride through historic downtown can be a great way to learn more about the history of Charleston. If you take a stroll down Market Street, you'll be sure to find several carriage ride options.
Dinner Cruise
Enjoy beautiful views of the Charleston harbor from the water by taking a fancy dinner cruise with a friend. Dinner cruises are nice if you want to get dressed up and enjoy nice music, delicious food, and a relaxing ride.
Improv Theater or Stand-up Comedy
If you've had a stressful week and you need a good laugh, there are several small improv and armature stand-up comedy theaters in Charleston. Comedy is always a fun option.
Let us know what types of activities you do to disconnect from technology to reconnect with the people that matter most in life. Share your story with us on Facebook!
Enter your contact info and request details below, and we will contact you with details about your private party!