The Best Snacks to Bring to a Paint and Sip Night
Going to a paint and sip night is an excellent opportunity to meet new people and to have fun while enjoying a creative activity. One of the benefits of these parties is that you don't need to invest in an expensive canvas, brushes and paints – the Pinot's Palette organizers provide everything you need to create a beautiful and fun painting. All you will have to bring to the event is your creative spirit, a bottle of your favorite beverage, and some snacks. If you have booked a special evening paint party and you want to prepare some tasty, but quick and easy-to-make snacks, here are a few great tips: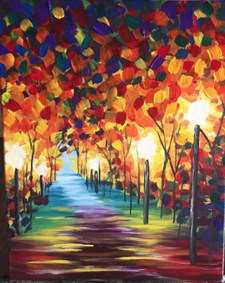 - Caprese salad on sticks – cut some cherry tomatoes and mozzarella balls into slices and put them on skewers. Separate the tomato from the cheese with a couple of basil leaves and sprinkle your skewers with salt and some freshly ground pepper.
- Tiny fruit tarts – if you have the time to bake something and you are an experienced pastry chef, too, you can make little fruit tarts using pastry from the store.
- A quick and tasty granola – oats, sugar, vanilla extract, some dried fruits will be all that you need to prepare a granola to delight the other students at the paint and sip party.
Share paint and sip art classes in Parsippany NJ | sip and snack art classes in Madison NJ