Project-Pet
Calling all pet lovers: want a new and exciting way to commemorate the love you have for your pet? Introducing…. Pinot's Palette Project Pet Class!!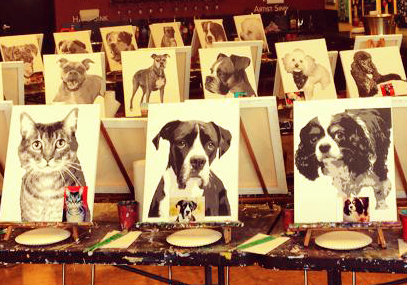 It's all honestly really simple, the first thing you have to do is send us a picture of your pet. Please make it a high quality photo with one pet per image! From there, the rest is on us. We will print the picture of your pet onto the canvas and have it ready for you when class begins! Our talented artists will then guide you in painting your pet as well as choosing the right colors! It's so easy yet the result is jaw-dropping.
Project Pet is one of our most sought out class because of how fun and personalized it is. We believe your pet deserves to be celebrated on canvas, and who better to do it than you, the loving owner? These paintings also serve as great presents for the upcoming holiday season if you're looking to plan ahead. Watch out on our calendar for the next Project Pet Class and reserve your space ASAP!