Creative Tips to Spice Up Your Paint and Sip Night
Paint and sip sessions are becoming more popular by the day, but if you still struggle to reach new participants, know that there are ways to spice up a bit the events that you are organizing, without paying too much for advertising.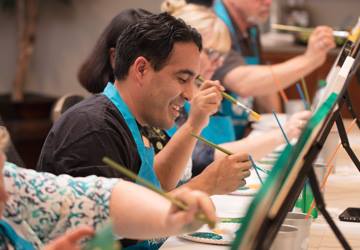 First, you can target new people by organizing themed sessions .People are very fond to seasonal events, so you can have a Moonlight paint and sip night for Halloween, ornaments painting for winter holidays, or an English garden painting and tea party, in the summer.
Another thing that can boost the number of the participants is to send invitations for the next paint and sip session to the people who regularly attend your events and offer them the possibility to bring a friend for free.
Alternatively, you can offer a free trial to everybody. If an entire paint and sip session would be too expensive to be free, at least you can host a smaller event, where anybody can come to taste some wine, see some samples of paintings that people competed during the sessions you have organized and learn more about these events.
If you want to engage the younger generation too, make some advertising in local colleges.
Share paint and sip art classes in Parsippany NJ | Morristown NJ things to do on a weekend