The Best Snacks with Your Wine!
We get people asking us all the time if they can bring wine or food to our studio for their fun girls night out! Not only can you bring snacks, but you can bring ANY beverages you wish! There are no limits to what you can bring. So what is the best snacks to pair with your wine and Pinot's Palette experience? Allow us to help point out a few good pairings!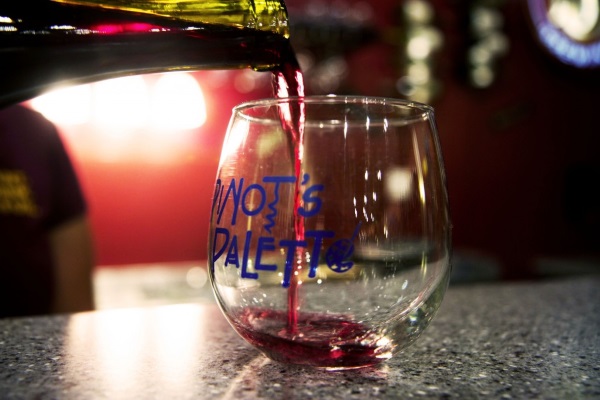 1. German Soft Pretzels and a spicy mustard sauce with Cabernet Sauvignon! Cabernet is the king of reds with a deep fruity flavor and known to be better as it ages. Strong tannins and complex. The sauce and German pretzels are filling and satisfying enough to hold you over until you head out to eat after your painting party! If you ate before, its just enough snack that doesn't make you stuffed! Get the recipe here:
http://www.f...retzel-sticks
2. Nuts (peanuts, cashews, pecans, almonds) roasted and lightly salted or glazed with a Chardonnay! Chardonnay is a creamy lemon and often rich taste! Chardonnay can get hints of pear, apple, and melon with a bit of butterscotch and vanilla kick. Nuts are easy to bring and satisfying!
3. Italian herb cheeses and different olives with Merlot! Merlot has similar complexity of a Cabernet, but softer and mellow tannins. Merlot brings hints of cherry, blackberries, cedar, plums, and/or chocolate to your senses. Try different cheeses from HyVee on 6th street and check out our exclusive menu for your party and mention Pinot's Palette to get 10% off! View menu here:
https://www....mcateringmenu
Also fabulous with dark chocolate!
4. Fresh fruit or vegetable tray with Reisling! This light and fruity wine pairs well with just about everything! It is slightly sweeter than our red friends, but not too sweet! A great mix could be a plain cracker or toasted slices with a nice fruity jelly topped with goat or brie cheese!
5. Spicy Asian noodles with Moscato! This sweet white wine may be the dessert you've been looking for! The spicy kick of the noodles can be the perfect pair with the sweetness of pear or apricots in the Moscato. Also great with hearty cheeses and fresh fruit!
Some great recommendations for wine:
Barefoot Moscato, 19 Crimes Red blend, Menage Trois Midnight, Cupcake Moscato, BlueJacket Crossing's Chardonel, Crescent Moon Starry Starry Night.
Bring your favorite snacks and beverages and PAINT. DRINK. HAVE FUN.