Paint. Drink. Have Fun.
PAINT. DRINK. HAVE FUN.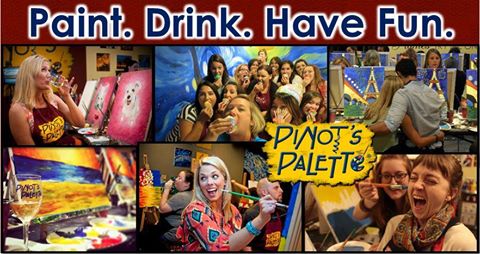 It's the end of a long, tedious week and you're looking forward to the weekend. You're planning a Girls' Night Out to relax and unwind, or maybe looking for a great date night option... Look no further than Pinot's Palette - Johns Creek. "But I'm no artist", we almost hear you say.... "Why would I want to go paint?" You won't know until you try it, we reply to that unasked question. This is the night out concept that is creating quite the buzz (pun intended ;)) You go for a movie &/or a dinner and the next morning all you have is memories. Wouldn't it be fun to have a memoir of a wonderful evening spent in company of your choice? Ahhh, we see realization beginning to dawn :) We know exactly what your next question will be... "So tell me more". And so we shall....
We are THE go-to venue for any celebration : GNOs, family gatherings, Kids' parties, holiday parties, birthday/anniversary celebrations... even just because! We love to host church groups, teacher groups, PTAs etc. as well. People can book private parties with us and have exclusive use of our studio space or join one of our public classes. Our staff comprises of well-trained local artists who walk guests through the painting process step-by-step as the enjoy a great time with their friends &/or family. Signing up online on our website or through our iPhone app is a breeze!
We have a separate refreshments area well stocked with wine glasses, paper wares, plastic wares, ice and bottled water on granite counters. Guests are welcome to have their private event catered or bring beverages & snacks of their choice to enjoy during the paint party. Bring your favorite wine & munchies and let's rock & roll! We have a fabulous music selection (and yes, we do take requests) and a well-kept, spacious studio that is sure to unleash the artist within...
Our motto is "Exemplary service with a smile" and our mantra is "We don't judge!" :)
So, plan that paint session with us... Let us guide you through to your masterpiece while you PAINT. DRINK. HAVE FUN!