Why Is Painting Beneficial for Children?
Painting is an activity that is great fun for kids – most children enjoy working and expressing themselves with colors, creating unique shapes and representations of their innermost reality -, but painting is much more than a form of self-expression and entertainment. Here are some other cognitive and physical benefits that you as a parent should know about: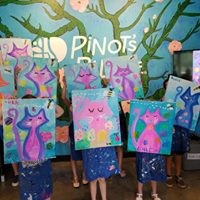 - Improved hand to eye coordination and dexterity – you will see how your child's creations become more detailed and more life-like, how the kid's painting movements become more precise;
- Learning about shapes, sizes and colors – using hues and shapes, distributing them on the canvas to create an ensemble will teach your child about proportion and aesthetically pleasing creations;
- Stimulation for the brain – painting activates several centers distributed across both hemispheres of the brain, providing enjoyable, efficient and valuable exercise for the mind;
- Therapeutic effects – painting is a tool used by many children's therapists trying to find out about the child's feelings and emotions. Young children who are faced with life situations that are difficult to cope with and therefore choose to take refuge into themselves, shutting out the people around find it easier to communicate through colors and shapes, allowing the therapist to find the therapeutic approach that works best for the little patients.
Share put a twist in your Rowlette painting experience | birthday party places Garland TX