Why Are Paint and Sip Parties Such a Great Holiday Gift for Your Loved Ones?
Paint and sip parties are somewhat unique, and not everyone knows what they are yet. However, they have been slowly gaining ground in recent years, and today, a lot of people can already tell you what goes on at those parties and why they are so special.
Basically, we can say that Pinot's Palette paint and sip parties are exactly what they sound like: parties where guests bring in their favorite beverage to sip, and paint beautiful paintings. However, there's a lot more to it than that. Guests are encouraged to mingle, share their ideas, offer their support to beginning artists and form friendship bonds that they'd otherwise never make. At Pinot's Palette, the result is a night that you won't soon forget, with people you can meet with every week and share a remarkable time with.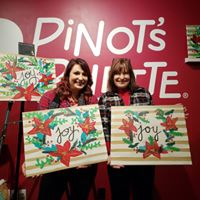 So, if you know all that, you probably already have some idea of why these parties are the ultimate birthday gift, especially for someone who doesn't get out much. If you have a loved one whom you think might enjoy a quiet and relaxing night out with friends, then this is the perfect venue for them.
Moreover, if your friend or family member is someone who has trouble socializing with people, or who simply loves art and painting, then they will never stop thanking you for a gift that they've probably always wanted in their life.
Share painting with a holiday twist in Plano | twist up your holiday with painting class in Wylie