Invite Your Friend to a Paint and Sip Party – The Best Stress-Free Gift
Gift giving has become somewhat cliché, and everyone tends to just focus on the standard, traditional gifts that people have always given to each other – a watch for the guys and a piece of jewelry for the ladies. But what if you could offer a gift that could change someone's life? What would happen if your friend could benefit from a birthday gift that will really make him or her feel special?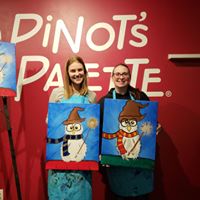 Paint and sip parties might have only been around for a few years, but in that time, they've become extremely popular. An invitation to a paint and sip party can be a real asset, regardless of whether your friend is forthcoming and open, or whether he is introverted and shy.
Inviting your friend to a paint and sip party at Pinot's Palette can allow them to meet new people, improve their creative skills and have a great time while relieving some stress. Best of all, they can always return to the venue and become a regular, thus gaining the opportunity to meet even a greater number of interesting, like-minded individuals, and why not, maybe even find a date or two.
Pinot's Palette paint and sip parties can really change the mood for a shy person who isn't used to social gathering. An inviting and welcoming place, these venues have everything you need to improve your social and artistic skills without feeling pressured into it.
Share amazing birthday party places in Plano TX | gift giving with a twist at Rowlette paint and sip