Handpainted Home Decor Trends: What Are You Planning for the Winter Season?
There is a lot to be said about handmade and handpainted home décor items. While porcelain items and small paintings are considered to be the top most popular things you can get or make, there are also many other, more unique items to consider. Some of these include funny signs, collages, metal posters, and even unusually shaped wooden decoration items such as bag-shaped plaques.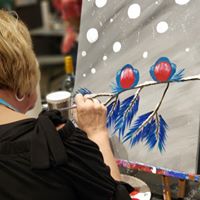 It's important to first consider whether you want 2D or 3D art for your home and what themes you should consider. Some porcelain dolls can be quite beautiful additions for the fall season, especially when the main theme they cover is nature. An especially inspired choice would be to get dolls and china featuring flower patterns, fruit bowls and colorful leaves representing the arrival of autumn.
If you're less into artistic stuff, you can also consider funny signs and metal posters that simply depict few basic shapes, but go together well with your modern or traditional home setting. These items can be great conversation pieces to share with the entire family and with your friends, when they come to visit.
Although there are lots of great pieces available online and in local stores for sale, it's worth considering making your own handpainted home décor items and artistic paintings on a fun Sunday afternoon as an art & crafts experiment.
A great place to create a unique art piece is Pinot's Palette. Experienced and friendly artists will lead you through a step by step painting exercise to help you create a one of a kind piece of art for you to take home. These classes are fun for all ages!
Share hand painting art classes in Plano | DIY home decor art classes in Richardson TX