Fun Activities to Help You Beat the Texas Heat
The temperatures are quite high in Texas during the summer and there will surely be some days when you are not sure about what you can do to beat the heat. Luckily, regardless of where you live, Texas offers many indoor and outdoor opportunities where you can enjoy your time and stay comfortable even during those hot summer days.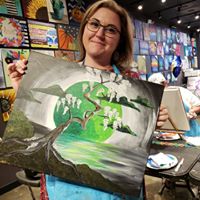 We offer you only a few suggestions:
Participate in a painting class at Pinot's Palette
Bring you favorite beverages and cool off at Pinot's Palette! Experienced and talented instructors will lead you through a painting class with step by step instructions to help you create a beautiful painting to take home.
Go boating on Lake Lewisville
There are many lakes scattered throughout Texas and Lake Lewisville is only an example. Besides boating, it also offers opportunities for fishing, swimming and water skiing. There is even a golf course nearby. The proximity of Party Cove brings even more entertainment opportunities, if you choose this location for spending a few summer days.
Spend some time on the beach
If you love camping, Padre Island National Seashore is a wonderful place where you can cool off naturally. You can install your tent right on the beach, but make sure to check the weather, as the wind may be strong in this area. If you like, you can go canoeing along the coastline.
Visit Schlitterbahn Waterpark
There are four locations: Galveston Island, South Padre Island, New Braunfels and Corpus Cristi. The fun is guaranteed due to the fantastic attractions including surfing rides, uphill water coasters, tubing rivers, but also great picnic areas.
Share twist in the summer heat with painting in Rowlette | birthday party places in Plano TX to beat the heat