4 Reasons To Paint And Sip
Why "paint & sip" instead of a tv night in or other evenings out (i.e. bowling, etc). Below you will find a few reasons why our guests choose to "paint & sip" with us instead of a typical evening out: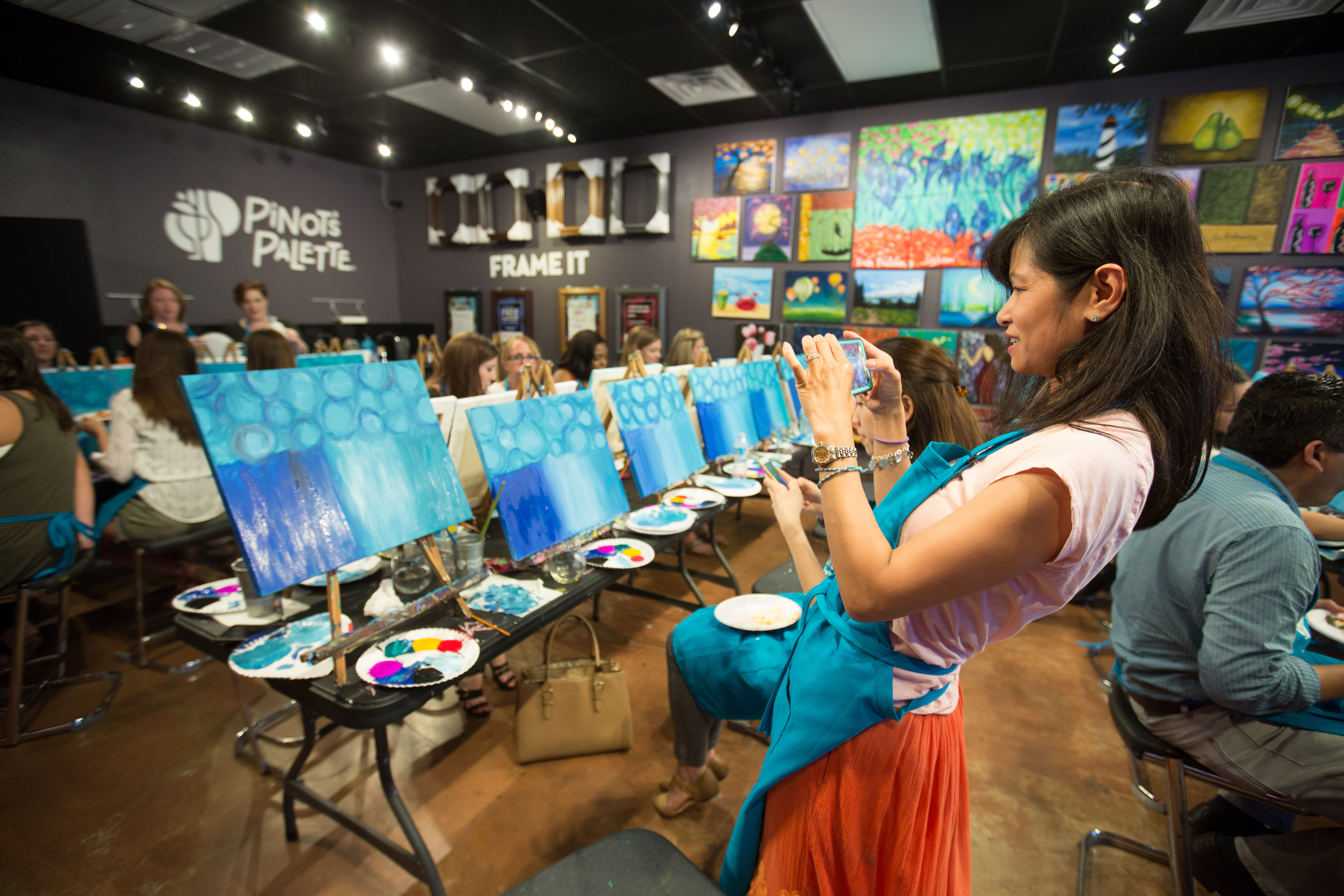 1. Painting Increases Brain Plasticity
Plasticity is your brain's ability to change, learn new skills, form new habits and break old thought patterns, among other things. Sedentary, repetitive activities like watching TV do nothing to improve plasticity, but there's a major connection between art and enhanced brain plasticity. The creative process that goes into any painting opens up new neural pathways in your brain. This, plus the mental and motor efforts required to make a piece of art, means that all painters get these brain perks – from the least experienced to the most masterful.
2. Painting Makes You a Happier Person
And not just when the brush is in your hand. Creating art has lasting effects on your mood. It helps decrease anxiety, and improves self-awareness and self-contentedness. People who get involved in art tend to have more positive perceptions of themselves. Not to mention, there's an enormous feeling of pride in completing a painting. In a world where there's never enough time to finish work and chores, it's helpful to have an outlet that allows the satisfaction of finishing something amazing, every time!
3. Painting Reduces Stress
Stress reduction is a hot topic these days. Every magazine article, Pinterest post and mobile app claims to hold the secrets to stress reduction. But really, truly, painting is something special. Every brush stroke has the same unburdening effect as raking a zen garden. Have you noticed that you leave the studio feeling more peaceful than when you came in? Yeah, the wine helps, but the actual act of painting has a calming effect that's very, very good for you.
4. Good for the Heart, Good for the Brain
It's these mood-boosting, stress-reducing qualities of the paint and sip experience that make it such a great place to connect with your friends, and leave your brain wanting more. The next time you feel like you're in a slump, pick up a paintbrush (or a pencil or a camera or your tool of choice) and go make something. You'll be glad you did.
Sources:
http://www.n...s/PMC3944420/
http://www.s...3811914009318
http://james...make-more-art
Ready to sign up for a class? Visit our calendar by clicking the "Painting Events Calendar" link below: