Gift Ideas For Anyone On Your List!
Happy holidays to all of you out there! December has hit and it's 'go time' for everyone as the days until Christmas are quickly ticking by!
Make your list and get ready to start checking names off as you shop for your loved ones this season!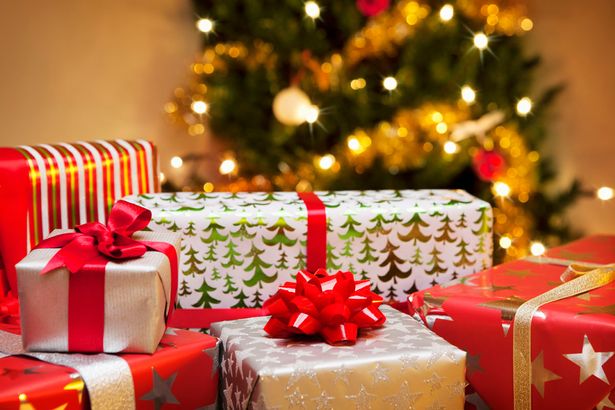 Black Friday marks the official start of the holiday shopping season. From that day on, every day closer to December 25th, the stores become more crowded, the lines grow longer, and the parking lots become a nightmare! We've complied a list of some one this year's hottest items for you to check out and the best part is that they can ALL be ordered online. Sit home on your sofa, in comfy clothing, and sip some hot cocoa as you click your stress away, purchasing a bunch of your presents from your laptop or phone!
As you busily run around, accomplishing the many daily tasks you have, remember to take some time for yourself and your family this holiday season! We have a fabulous calendar, filled with date night classes, family day fun, and tons of other holiday/seasonal artwork for you to come in and make before the end of the month!
**If you're still looking for the perfect place to hold your annual holiday party (with loved one or for your office), look no further than our studio! Be sure to reserve your date, ASAP, as our party spots fill up fast!
--Read all about our parties:
https://www....state-of-mind
*** GIFTS FOR ANYONE ***
— A HANDMADE GIFT —
Come in and make some of the incredible paintings on our calendar for the month and create a special, handmade work of art for all of the people in your life! There's nothing like a gift from the heart and taking the time to make something special from scratch, for the ones you love the most, is the best gift you can give! Think about what a wonderful treasure your masterpiece would be to the person who receives it, as they hang it in their home to look at all year long!
*Check out our December calendar:
https://www....sallmonthlong
— THE GIFT OF AN EXPERIENCE —
An actual material thing is a nice idea for a gift but what many people might prefer is spending time with loved ones. Giving the gift of an experience is such a thoughtful, meaningful, and sincere idea and one that will keep on giving, in the form of wonderful memories, year after year. Invite your fiends or family in for a painting class with you where you can catch up with one another and spend time, hanging out and painting! Leave with your handmade souvenirs to treasure forever!
— A GIFT CERTIFICATE —
If you and your loved ones don't live near one another, then we have a solution: A Pinot's Palette Gift Certificate!
Buy a bunch and send them out to all of your friends and family, near and far throughout the country and they can attend a class at a studio near them!
Heres a list of our locations:
https://www....com/locations
— KeySmart is the compact solution to your bulky, leg-poking keyring. The patented 'S' design creates a perfectly organized keyring and multifunctional tool.
You can easily Attach Your Car Key Fob with FREE loop accessory! It's fully Customizable – Variety of color options and accessories available at checkout and it's quick Assembly; Attach all your keys and accessories in less than 60 seconds, no tools required!
https://getk...guvertical=42
— Echo Spot
If she hasn't gotten into the smart home craze yet, this little device will get her hooked. It helps her find the best route to work and land on the perfect outfit based on the weather. This upgrade has video capabilities so she can video chat with friends and family.
https://www....[src%7C[ch%7C
— Amazon Fire HD 8 Tablet
The latest Amazon tablet boast 12 hours of battery life, a vibrant 8" HD display and Alexa compatibility. Watch out: Once you give it to her, you may not get her attention back for a while.
https://www....[src%7C[ch%7C
— Furbo Dog Camera
https://www....[src%7C[ch%7C
If you co-parent a dog, gift her something that will keep her mind at ease on date night or while she's at work. Previously featured on Ellen, this camera allows you to watch and even feed your pet while you're out of the house.
— Composite Agate Cheese Board
Since every good relationship (like yours!) needs a solid foundation, this multi-colored cheese board is an absolute must.
https://www....m_term=594026
— Mantra Bangle
With this bracelet's engraving of "You are braver than you believe, stronger than you seem and smarter than you think," she'll have a daily reminder of just how special she is. Choose from rose gold, gold, and silver.
https://www....[src%7C[ch%7C
***GIFTS FOR THE KIDS***
— L.O.L. Surprise! Glam Glitter Series Doll
Ages 5+
We know you know that L.O.L Surprise dollsaren't going anywhere, but the Glam Glitter doll is likely one your child hasn't unboxed yet.
https://www....[src%7C[ch%7C
— LEGO 'Harry Potter' Hogwarts Great Hall Building Kit
Ages 9+
Harry Potter lovers were thrilled with this Hogwarts building kit in the Good Housekeeping Institute'stesting. It comes with a potions room, treasure room, sorting hat, and the Mirror of Erised so they can take Harry and friends on their wildest adventures
https://www....[src%7C[ch%7C
— 'Chow Crown' Game
Ages 8+
If your kid can't stop playing with his food at the table, give him this game. Players wear a spinning crown loaded with snacks and have to try to eat everything before time is up. Just note that in the Good Housekeeping Institute's test, older kids had a better time grasping the game than younger ones.
https://www....[src%7C[ch%7C
— L.O.L. Surprise! Bigger Surprise!
Ages 5+
Your L.O.L. Surprise lover may think she's seen it all, until she gets her hands on its biggest surprise yet. This top-secret box is jam-packed with over 60 brand new dolls, accessories, and more.
https://www....[src%7C[ch%7C
— Kano 'Harry Potter' Coding Kit
Ages 6+
Thanks to the release of Fantastic Beasts 2, a ton of new Harry Potter-inspired toys are hitting the market in 2018. This STEM option teaches kids to code a wand that responds to their movements.
https://www....[src%7C[ch%7C
— 'Watch Ya Mouth' Throwdown Edition Card Game
Ages 8+
This hilarious game has players wear cheek retractors that make saying phrases difficult to say the least. Their teammates have to guess what they are saying to win, but getting guesses out in between laughing
https://www....[src%7C[ch%7C
— LEGO Boost Creative Toolbox
Ages 7+
Packed with over 840 Lego pieces, along with a move hub and an interactive motor, the possibilities for your child's robot creations are endless with this 2017 Good Housekeeping Toy Award kit.
https://www....[src%7C[ch%7C
Share Sign up for a painting and wine class! | Purchase some gift certificates!