Halloween At Home
Celebrate Halloween With Us! Whether you're looking for something to go out and do or a way to celebrate at home, we're offering some wonderful options for you and your friends and family.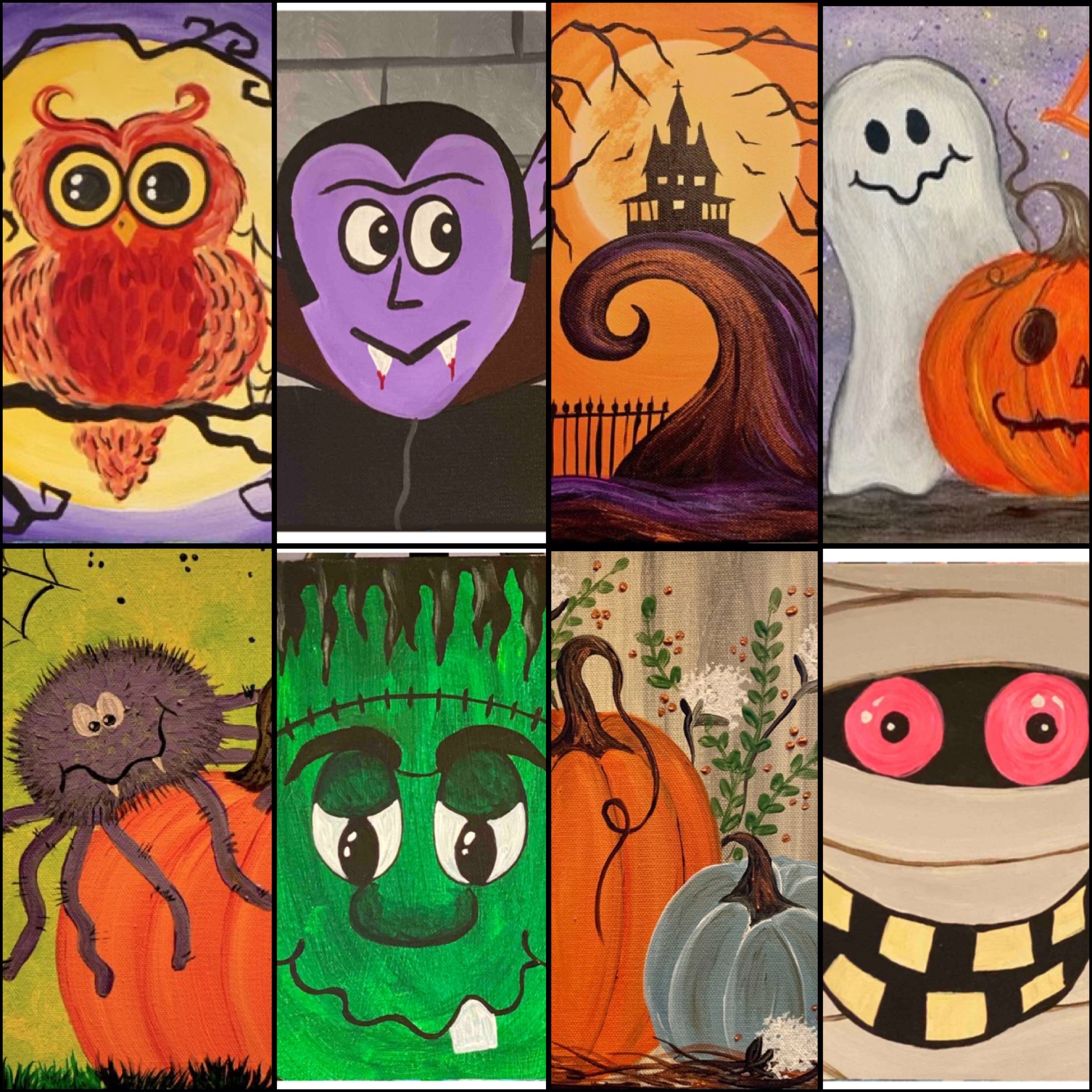 This year, things are going to be little different for the holidays, and that starts with Halloween this month. There's been lots of talk about how 'Trick Or Treating' should be handled and whether it's safe or not. Aside from the main tradition of walking around to get candy, parties, fundraisers, costume contests, and other celebrations are being cancelled or turned into a virtual event.
We can't change what is, but there are plenty of ways to conform our way of doing things in the modern age. We're thankful for platforms like Zoom and the internet… and for phones, emails, texts' nd FaceTime! Let's all help each other stay positive in the hard times and remember that we really are all in this together.
Here at Pinot's Palette, we're offering some spooktacular classes for everyone, both in the studio AND virtually!
Since march, we have been working hard on our virtual events and they've been wildly popular.
We're so excited to be able to offer these classes all year long, and especially during the holidays, giving people a way to celebrate that is safe and secure.
Celebrate with loved ones at your home (gathered together in one spot or join from your individiul homes). Make memories and masterpieces as you paint from the comfort of your living space where you can enjoy snacks and drinks as you make some art.
Halloween is such a great time of year to take advantage of these remote classes and get into the holiday spirit with some educational and fun activities. You can make some decor to hang in your home some to give as gifts to friends, and some just to make for the sake of making art! Making art (and participating in other creative actives) is such a great way to relax and unwind — and who couldn't use some stress-relief these days? Add a glass of wine and some chocolate, and comfy clothing into the mix and you've really got yourself a treat!
JOIN US!
Take advantage of our virtual events like Take-Home Kits, Live Virtual Classes, AND Video Tutorials!
— Take-Home Kits and Video Tutorials —
Take Home Kits and Virtual Paint at Home Videos. Throw in some candy corn and you have everything you need for a SpookTacular Halloween for the family or for the whole block.
**Take Home Kits:
Order online and pick up the supplies at our studio! You'll receive everything you need, including the printed step-by-step directions to follow along with! Fun for all ages :)
**Video Tutorial Paintings:
These virtual 2-hour events packages includes all supplies, too! Just order online and pickup supply kit at studio. You can log in from anywhere you have a access! The link for the event will be available as indicated in the descriptions and will be included in your supply kit.
See our large selection of Take-Home Kits and Video Tutorials:
https://menu...e-home-kits-2
— Live Virtual Classes —
We've got some AWESOME paintings coming up for out LIVE Virtual Classes!
10/22 Three Witches
This class would make a fun 'Girls' Night' - celebrate with friends or make it a. Mother/Daughter day!
https://www..../event/491687
10/23 Nightmare Romance
'Date Night' fun! Paint with the one you love most.
https://www..../event/491688
10/23 Pile Of Pumpkins
Beautiful pumpkins in metallic shades, painted on a long canvas - This piece will look stunning in any room!
https://www..../event/487491
10/23 All The Spooky Ladies
Make it a 'Girls' Night'
https://www..../event/488089
10/24 Van Goghs Starry Night Halloween
One of our most popular paintings!
https://www..../event/488091
10/29 Hallow-Queen
Fun For A 'Girls' Night In'!
https://www..../event/488097
10/31 Halloween Spooks
The Best 'Family Night' Fun!
https://www..../event/488099
— In-Studio Classes —
Lastly, if you ARE looking for a way to have some seasonal fun out of your home and in our studio, we are offering some fun in-person classes as well… Limited seating, of course.
You can view our full calendar at the bottom of the page and see all that we're offering this month :)
Share More tips for celebrating Halloween safely this year: | See our full calendar