Pinot's Palette Opens in Bay Shore
For Immediate Release - May 25, 2016
Long Island's First Pinot's Palette to Blend Community and Creativity on Local Canvas
Hometown Entrepreneurs Set to Paint the Town Red...and Blue...and Green...and...
Bay Shore, N.Y. - When you listen to Karen Norris describe her venture into business ownership with her husband Brian, you may mistake her passion for bringing painting to people of all artistic abilities for that of your favorite childhood art teacher. That is the approach they are taking into opening the first Pinot's Palette franchise on Long Island to the public on May 26.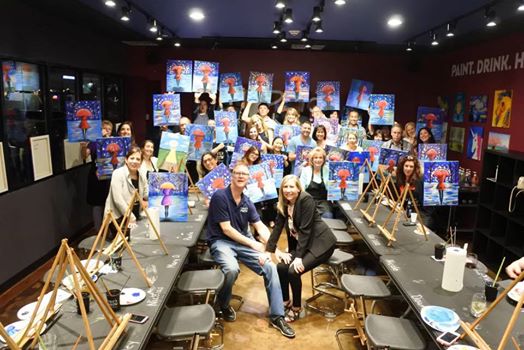 With over 150 locations in North America, the Norris' feel they have discovered the perfect opportunity to bring the burgeoning "paint and sip" concept to their old stomping grounds right in the heart of the redeveloping Bay Shore Main Street.
The Norris' loved the idea that they can bring people together to bond in a unique studio setting, have a relaxing glass of wine and even go home with a souvenir that may be a conversation piece over the mantle for the next 50 years.
"I looked at this concept and thought what a great way to share a special evening with my mom, husband, even coworkers or friends," said Karen Norris. "I always had a passion for art and went to school for graphic design, but "paint and sip" allows me to share that passion with my family and friends in a fun and intimate setting as we create memories and our own personal masterpieces."
With the motto "Paint. Drink. Have Fun." the new development at Village Place in Bay Shore offers a rebirth of the downtown location brimming with enthusiasm.
Guests will enjoy a no-experience-required art class - all supplies included - directed by local artists, who guide guests step-by-step through the featured painting of the day.
"There truly was something much bigger that drove us into this venture," states Karen. "At the end of the day after all the capital and time that has gone into it, we of course aim for success, but there is a bigger sense of purpose in being able to bring such a joyful and creative establishment to our community. Our goal is to bring people together in a safe, fun atmosphere, away from the daily stresses of life. There are very few activities that family members - like a mother and daughter, with possible different interests - can do together for a few hours on a week night or weekend in such a unique setting like this one... It is fun for everyone and a bonding experience no matter your artistic skill level."
Also on tap for Pinot's Palette are plans to hold kid's classes called "Little Brushes," family days, corporate team building events, private parties, and other social festivities such as bachelorette parties and date nights. For those looking to sip something other than wine - beer, soft drinks and coffee will also be available.
Pinot's Palette is located at 61 West Main Street and can be reached via email at BayShore@pinotspalette.com and by phone at 631.446.4777. Bookings are now available online at pinotspalette.com/bayshore or via the Pinot's Palette downloadable APP.