Do You Wanna Build a Snowman?
Come on let's go and play! Your friends never see you anymore- so come out the door and let's paint ourselves a snowman!
Do you want to paint a snowman? It doesn't have to be a snowman. You can paint whatever you'd like. But if you want to paint a snowman we've got one for you! And you can drink wine while painting it!
After you share a fun night of painting and drinking with you friends, you'll have a new snowman friend to hang on your wall. If you're feeling a bit like Anna from Frozen you can talk to your snowman if you get a little lonely in your castle- ehm house. Snowmen can be great company on a cold winter day. Unfortunately it won't get quite cold enough in Aliso Viejo for you to build an icy snowman in your yard, so painting one is the next best thing!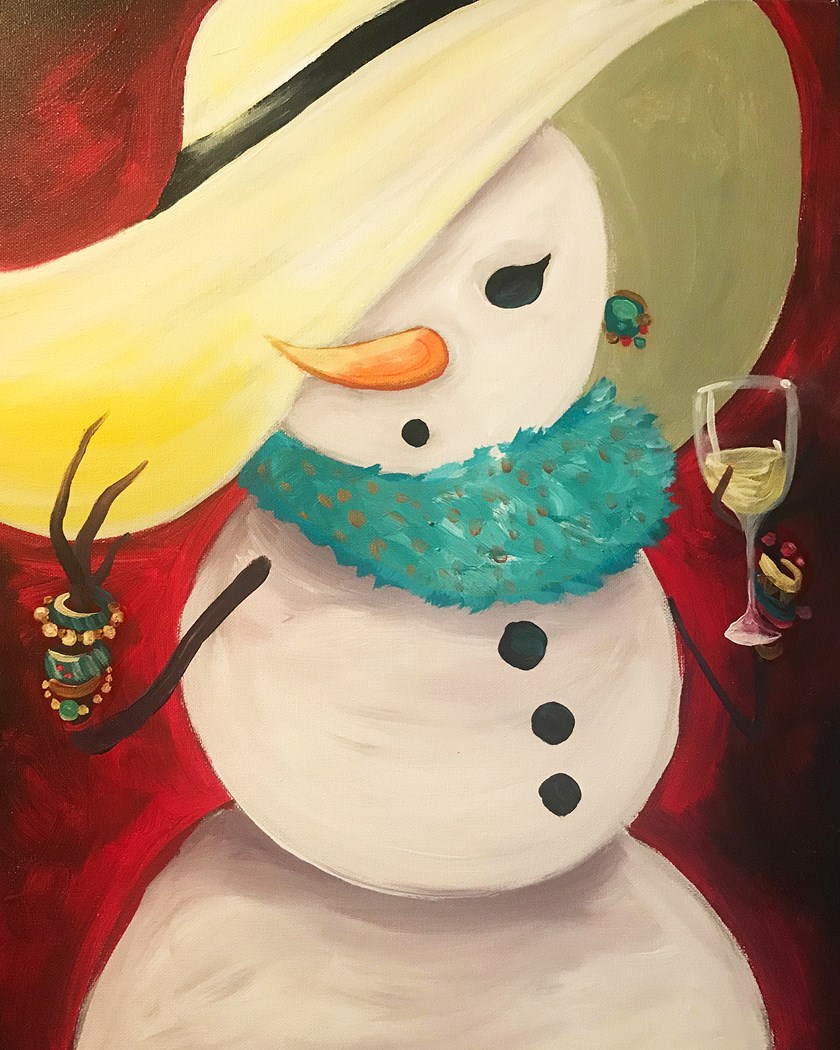 Take a look at our upcoming snowmen paintings:
Sunday, November 12 4:30 - 6:30PM "Snowman's Bliss" This is one of our illuminated paintings, which means it includes a strand of 20 light up LED lights! This snowman is livin' his dream! A beautiful snowfall on a dreamy winter's night, with only a gingerbread star to light the sky. He can play until his heart's content, while little one's are tucked in bed! This charming painting will put a smile on your face and brighten your heart!
BLACK FRIDAY SPECIAL: Friday, November 24 3:00 - 5:30PM "Catching Snowflakes" features a happy little snowman staring up at a lovely little snowflake. You can choose to paint this as an illuminated painting or on a SWEATER! Are you looking for the most unsightly (or fabulous) sweater to wear to your next ugly sweater party? Look no further, Pinot's Palette has the perfect solution. Join us to paint and decorate your own personalized ugly sweater. You will paint directly on a sweater that we provide and then have the option of adding bells, lights, fuzz balls and all sorts of tacky (and pretty) accessories. Bring the whole family (21+) to this holiday sweater paint and sip party! The more, the merrier. As always, must be 21+ to attend our paint and sip events. Order your seats by Nov 15th to guarantee your size (S-5XL) and color (Blue or Black).
https://www..../event/185525
Sunday, November 26 4:00 - 6:00PM "Snow Diva" This snowlady is SASSY! She is ready to be the life of your next painting party. She's got a glass of white wine to match her playful oversized hat along with a fluffy scarf that matches her delightful turquoise earrings. She's also got bangles on each arm to complete her ensemble. This girl's got it going on! As always, for our Mimosa Sundays we have $15 bottomless mimosas. Flavor of the month: cranberry! (OJ also available).
Tuesday, December 5 7:00 - 9:00PM "Folk Art Snowman" This charming Folk Art Snowman will bring a country charm into your home for the holidays. At only $25 per painter, this little guy is a steal!
Saturday, December 16 3:00 - 5:00PM "Rustic Snowman" There's no man like a snowman. Enjoy painting this sweet little rustic snowman whether for the holiday season or just a cute little accent during the winter months. He's cheerful and though he's cold to the touch he has a warm heart. Back by popular demand I suggest you book your seats early for this party!
We have a professional artist teach every one of our classes, so do not be afraid to come in if you are a beginner and haven't flexed your creative talent muscles in a long time- yeah we know you probably haven't painted since elementary school and we're cool with that. We're here to help and make sure that you have a great experience with us. We pride ourselves on being Southern Orange County's Premier Paint and Wine Studio! Come check us out today!
https://www....oviejo/events