Mangiamo
We are often asked: "Where do you recommend we have lunch or dinner before or after our class?"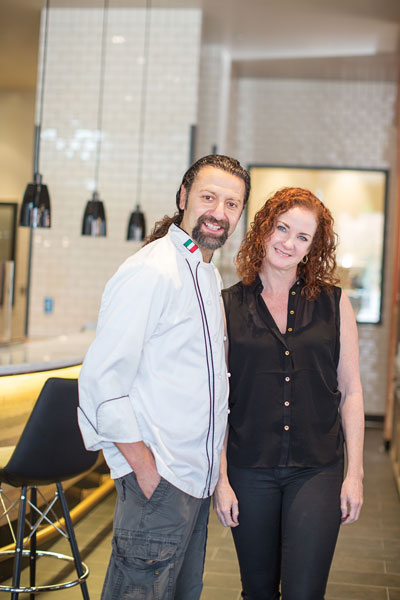 Although South Shore Center offers a plethora of local and national restaurants it seems more often than not our answer is why Trabocco's of course! You see, we are partial to really great Italian food. From the moment of that first bite you catch the passion of the chef behind the preparation. For us, there is no one more passionate and demanding of the food he prepares than Chef Giuseppe Naccarelli of Trabocco. Every Chef dreams of owning his own restaurant – a place that reflects their passion, personality, love for food and a fabulous dining experience. With Trabocco, Giuseppe Naccarelli is fulfilling that dream.
The bright, open, and airy 90-seat dining room with a copper clad, table height fireplace features a 35-foot tower crowned by a large skylight and light sculptures inspired by fishing nets. The dining room offers intimate booths, tables, banquet seating, and a beautiful acacia wood Chef's communal table. The open kitchen, anchored by a black-tiled Stefano-Ferrara pizza oven, lets guests see the excitement of the kitchen in action and offers counter seating for front row views. The 16-seat private wine room is perfect for intimate gatherings, and the bar with communal bar tables pays subtle homage to sleek, sexy Italian sports cars and Vespas. The covered and heated outdoor area provides year-round dining, and the outdoor lounge area is the perfect spot to enjoy a Trabocco signature cocktail and 'stuzzechini' (small plates).
Trabocco brings something new to Alameda: world class Italian cuisine in a family friendly setting, beautiful year-round outdoor dining and lounge, and a sleek and dynamic bar.
Your dining experience will be made more memorable by the gracious attention to detail of Christine Naccarelli who Giuseppe affectionately refers to as "my boss". So make your way just a few steps from our upscale studio before or after a painting class and enjoy a memorable meal. Buon appetito!
#wine #pinotspalette #events #datenight #foodie #girlsnightout #teambuilding
https://www.trabocco.com