Holiday Party Ideas Your Team Will Love
You're in charge of the office holiday party for your team this year…..Yikes. Have no fear here are some ideas to consider: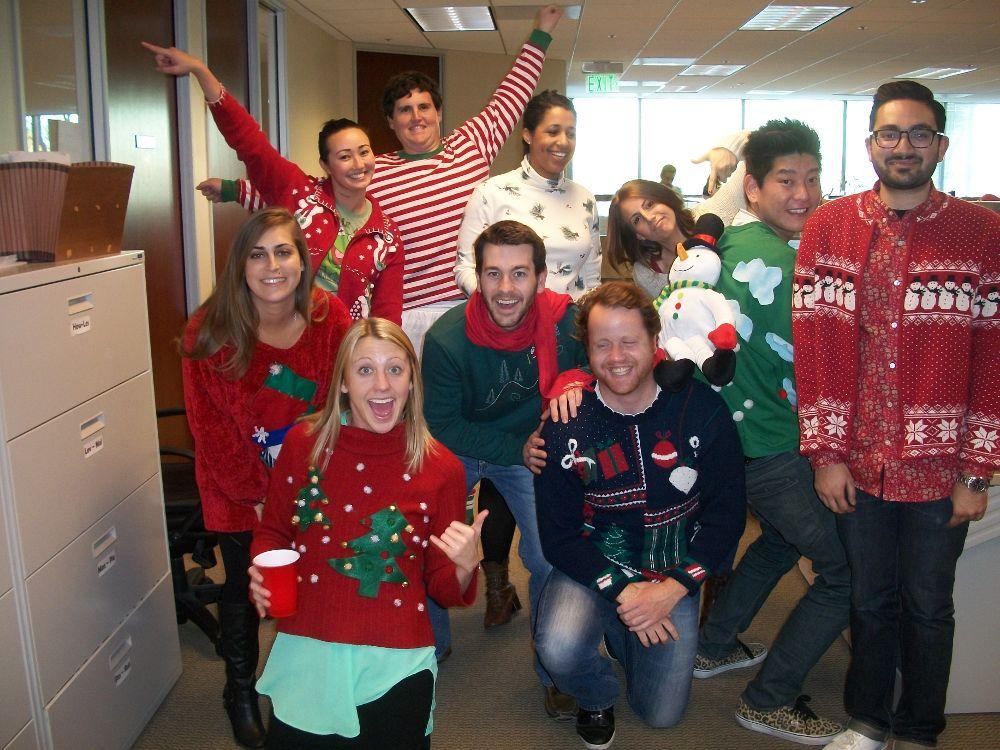 Themed Potluck
The most simple and easiest to coordinate. Everyone loves to show off their culinary skills or needs an opportunity to make Grandma's famous potato casserole. Block off an afternoon at the office free from work allowing everyone to participate stress free. Sharing a dish from your heritage is the perfect way to bond with coworkers during the holiday. An added perk may be to create a 'cookbook' with everyone's recipe to share with the team.
Bake off and Cookie Swap
Everyone loves holiday sweets! Instead of gift-giving or Secret Santa gifts try a Holiday bake off and then cookie swap that including the recipes of each sweet treat! Along with a company supplied punch or mulled cider add some holiday music and you've got yourself a holiday party! Then give everyone the rest of the afternoon off to finish their holiday shopping and you've boosted the office morale.
Ugly Holiday Sweater Day and Photo Booth
What started as a funny joke has now become a holiday tradition. Encourage your team to wear their most gaudy, glittery holiday sweaters or sweatshirts. Create a contest and have everyone vote on the ugliest, in poor taste and gaudiest. Create a photo booth with props such as elf ears, hats, scarves, etc, encourage groups to take photos with fellow team members and post in the break room. Leave them up for the holiday season reminding everyone of the moment. This is such a great way to end the year and begin a new one.
Offsite Venue Ideas
Volunteering
Employees find volunteering for a charitable organization motivational. It creates a warm fuzzy feeling of goodwill. Make it a team effort with the group pinpointing and agreeing on a specific organization in need. Whether it's adopting a family for the holiday, painting or cleaning up a local facility is sure to bring cheer to both your team and your organization of choice.
Paint and Sip
Of course we are partial to this one. Having seen numerous events in both locations over the years and how painting together as a team not only builds morale but is enjoyable by almost everyone we are advocates. Paint and sip studios offer an outlet for your team that encourages teamwork, creativity and most of all fun. Events can be designed to align with a strategic goal your company is emphasizing. The painting could be a certain theme to enhance a goal set for the year or it could be a collaborative or a puzzle painting to enhance interaction and teamwork. Whatever your goal of your holiday outing painting can bring out the inner-Picasso of any office.
Culinary Cooking Class
Like painting, cooking sparks creativity too. Break the group up into teams and host your own Iron Chef experience or create your own Chef's Table with each group cooking for the other group. Either way no one goes away hungry. (and there is a good chance for leftovers)
Bowling/Arcade
Create your own Olympic Triathalon. Create teams of employees and compete in bowling, laser tag and ping pong. Add the scores up and the winning team gets bragging rights for the year. Most bowling arcade centers can create these types of activities and facilitate the process, so all you have to do is show up!
No matter what you decide to do with for your office party this holiday season, your team appreciates being acknowledged and like to know they matter. The goal of any office gathering is that everyone has fun and leaves with a smile. You don't need a large budget to throw a fun gathering, enlist the help of your team and get creative. Remember it's all about teamwork.
Cheers to another successful team outing!
Deb
Enter your contact info and request details below, and we will contact you with details about your private party!