Year-Round Kids' Camp and Mini Camp in Studio!
Kids' Camps and Mini Camps are all the creative rage!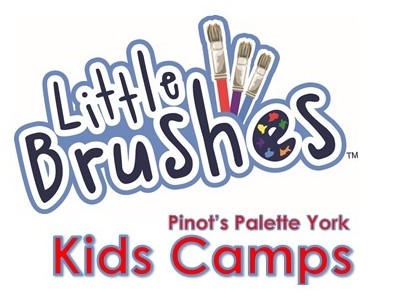 Our first year of Summer Kids' Camp was a big success and we had three fantastic weeks of getting creative!! We're already looking forward to our next season and planning for an exceptional time!
Think Kids' Camp sounds like something your child would enjoy? Get the deets:
During the week-long camps, our "days" are 3 hours long and our friendly instructor walks everyone through a featured daily painting and also assists with other activities each day as time allows. Over the 2017 summer, the campers painted flower pots (and planted a flower to complete the project!), painted original works of art, created clay masterpieces, painted ceramics of their choice, got up close and personal with two studio bunnies, played a variety of fun interactive games, enjoyed black-light confetti parties, delighted in yummy treats, and SO much more! The best part is our staff had just as much fun interacting with and getting to know the kids as the kids had in studio with us letting loose and releasing their inner artist!
Not only are the camps a blast for ages 5 to 12- TONS of FUN, but it's a unique experience, a perfect outlet for getting creativity released, and an awesome opportunity to meet new people and interact with other kids.
Whether you have an art-loving mini Picasso or a little one just looking for something fun & different to do over the summer, which is usually when our week-long camps are scheduled, Pinot's Palette York Kids' Camps are a perfect solution. All of the supplies for the 5 day week, a snack, and of course the fun are included in the sign-up price and no two days are the same! Due to the time frame that it takes to complete some of the projects (drying time, etc.) some projects may take more than a day to complete. For this reason, all week-long kids camps are for the full week and individual days may not be purchased separately. If a full week isn't for you though, don't worry; that's where mini-camps come in!
With school being in session, week-long camps are over for the 2017 season, but keep an eye out on the calendar for mini camps that will pop up on the schedule year-round!! These will be held on weekends or days when school is not in session and will feature a lot of the same creative activities that we enjoy during the week-long camps, just planned with the shorter time frame in mind. As usual, all supplies along with a snack & drink are provided! If your child has been to a Kids' Camp and just can't get enough, sign up for upcoming Mini-Camps to hold them over until next season! If your child has not been a camper but would like to get a taste of what it's all about, the Mini-Camps are the perfect opportunity to do just that!
Keep an eye out on our calendar for events labeled as "Little Brushes," as these are the events for ages 5+ and all camps will be labeled as Kids' Camp (FIVE 3-hour days) or Mini-Camp (ONE 3-hour Day). For all camps, kids may be dropped off 10 minutes prior to the start of camp and should be picked up promptly at the ending time. We look forward to many awesome days to come of getting creative in studio and we hope that your child will join us for what we're sure will be a memorable, "I wanna do that again" time!
Links to register for the Mini-Camps currently the calendar are below:
Saturday, September 2nd from 11-2PM:
https://www..../event/186085
Saturday, September 9th from 11-2PM:
https://www..../event/186134