What to Wear to a Paint Party
One of the most common questions we get is "What should I wear to a paint party?" We've written about this in the past, but in fact, you have so many wardrobe options for paint and sip that we could write a book about it.
First and foremost, don't worry too much about paint getting on your clothes. We do use acrylic paint, which does stain and is a bear to get out of knits. But while splatters are always technically a possibility, the vast majority of our guests leave with their clothes as clean as they came in. This is partly because we provide super-stylish Pinot's Palette aprons, but mostly because what we do in the studio isn't actually messy. The point is, there's no need to break out your crusty old paint-stained sweatpants. You can leave those at home, please.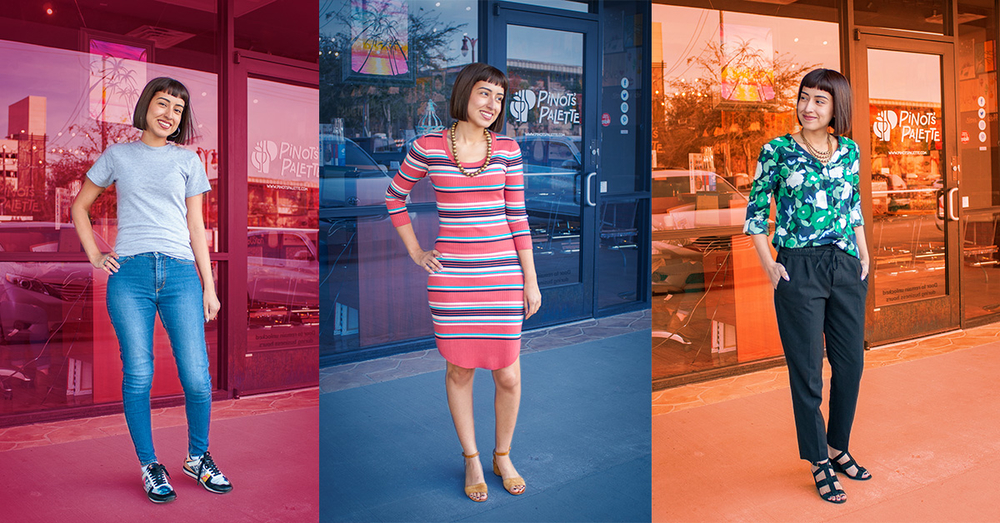 Since so many of our painters hit up a restaurant, bar or other entertainment after leaving lass, the vibe in our studios tends to be cute and stylish -- but not fussy. If you'd rather keep it super casual, that's fine too! Wear whatever makes you feel good, whether that's skinny jeans and heels or your favorite college t-shirt.
By the way, if you haven't seen our first post on what to wear to paint and sip, check it out at
https://www....aint-and-sip.
The ideas we shared there are sheer genius, honestly.
NO BELL SLEEVES
In the interests of minimizing risk, forego long flowy sleeves, especially the loose-fitting sleeves of boho-style tops. Sleeves that roll up are a good option, as long as they can stay rolled up on their own. Clothes that fit snugger on the body are less likely to accidentally brush against a wet canvas, so save the flouncy ruffles for another time.
DE-ACCESSORIZE
The same concept applies with jewelry and accessories. While the paint will probably come out eventually if it gets on your rings, it would be better to leave them at home (or keep them in your pocket) so you don't have to painstakingly scrub paint out of your pavé wedding band later. Anything that dangles, like bracelets and pendant necklaces, is not ideal for any painting project. Ditto for scarves. We do provide a safe place for you to store coats, scarves, handbags and other items you don't want at your painting table.
ROCK AN ARTSY LOOK
Embrace the occasion by opting for something a little painterly, like a pair of cute but comfy cuffed boyfriend jeans and a colorful pair of sneakers. As an added bonus, the odd drip of paint wouldn't look out of place. If you can picture one of the too-cool art majors from your freshman dorm wearing the outfit, you're on the right track.
COLORFUL PATTERNS = CAMOUFLAGE
Bright, colorful patterns are great for painting for two reasons. First, the color and vibrant print will get you in the mood to create, and second, it will serve as camouflage if you do end up getting a dab of paint on it. If your clothes incorporate some of the colors used in the painting you'll be working on, that's even better.
FLUFF AND FOLD
Stick to items that are machine washable anytime you're going to be working with art materials, especially if there's wine involved. A dry-clean-only dress, palette of paints, and a bottle of red is not a winning combination. Save your silk, lace, cashmere, and most-loved designer pieces for another day.
There you have it! With a little guidance, it's easy to strike the perfect balance of cute, comfortable, and painting-friendly for your next wine and paint party. Cheers!