Support ALS Research and Help Find a Cure - Painting It Forward - Sat, July 15th, 2017
As part of our core mission of giving back to our community, Pinot's Palette Woodmere has partnered with the ALS Association's Northern Ohio Chapter to host a Painting It Forward event on Saturday, July 15th, 2017. Show your support for ALS treatment and research by joining us on July 15th from 2:00pm - 4:00pm to paint Psychedelic Starry Night. A portion of the proceeds from all seats sales will be donated to the ALS Association.
Sign up to attend Psychedelic Starry Night at
https://www....event/162328.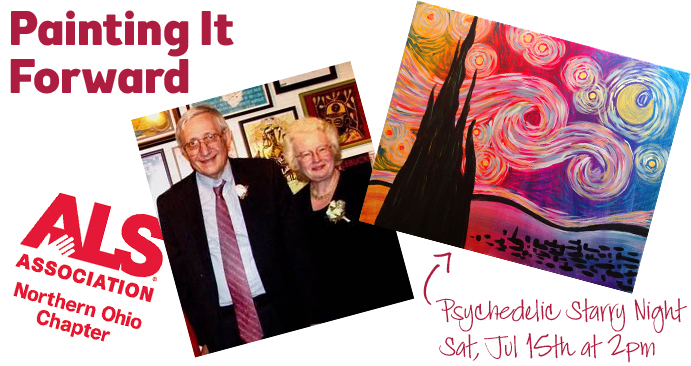 Additionally, we'd like to welcome everyone, including those who can't attend the painting event, to stop by our Open House from 12:30pm - 2:00pm on July 15th. There will be complimentary light snacks and a cash bar. You can show your support for the ALS Association by purchasing raffle tickets or participating in a silent auction for many amazing gift baskets. Can't make it on July 15th? The gift baskets will be on display at the studio through the end of July, so stop in any time after July 15th to purchase an entry or place a bid. 100% of the proceeds from the raffle and silent auction will be donated to the ALS Association.
This Painting It Forward event has been organized in memory of Richard Barkalow, who passed away from ALS-related complications in January 2017. Richard was born in 1946 in Ohio. He was a member of the first undergraduate graduating class of Wright State University in Dayton and continued on to get his Master's degree in History at Wright State. While in graduate school, Richard met his wife, Susanne, and they were married in 1972. Following graduation, he taught high school social studies in Ohio before moving to Minnesota with Susanne and his eldest daughter, Melissa. His second daughter, Melanie, was born in Minnesota. Today, his children are grown successful adults and he was very proud of the women they have become. Richard said on his last day, surrounded by his family, that being a husband and father was one of the proudest, happiest things he has ever accomplished in life. Richard passed away only six months after being diagnosed with ALS.
Many people were first made aware of ALS during the 2014 viral Ice Bucket Challenge that took over social media news feeds. Over $220 million dollars was raised through the Ice Bucket Challenge and the resulting research it funded has already resulted in several major breakthroughs in identifying genes linked to ALS. With additional money raised for this importation research, treatment or a cure for ALS may be possible!
Painting It Forward is Pinot's Palette's program to give back to our community. We partner with charities, non-profits, and community groups to help raise funds to advance their organization's goals. Pinot's Palette hosts both Painting It Forward painting events, where a portion of seat sales are donated to the partner organization, as well as donates paintings and gift certificates to organization to use in raffles and auctions.
Share Sign Up for Psychedelic Starry Night - Painting It Forward Event | ALS Association Northern Ohio Chapter