What is Your Wine Personality?
As with people, descriptions of wines are complex, versatile and sometimes unpredictable (as are the wines themselves!). These wine descriptions sound like they just as easily could come from a dating web site. For example, keep your eyes peeled for a nice Cabernet Sauvignon or Riesling in a life partner, but if you see a Pinot Noir heading your way, run!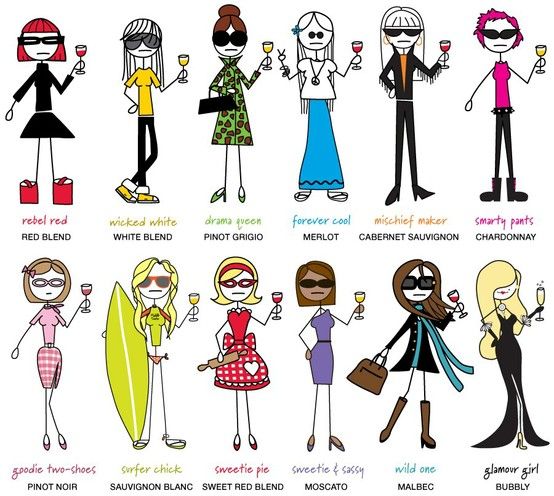 This could make for an interesting ice-breaker exercise as well. Provide descriptions like these for different wines and ask people which best describes them. It would take an honest soul to claim Chenin Blanc status!
CABERNET SAUVIGNON: Undisputed king; remarkably steady; consistent performer; uncommon depth; great intensity; classic; supple and elegant; distinctive
CHARDONNAY – Rich and complex; amazingly versatile; bold and intense; spicy; easy to manipulate; prolific producers; showy; appealing; popular
CHENIN BLANC: Pleasant enough; good blending subtle; fresh; very vigorous; serviceable; very bland; forgettable; disease-resistant
GEWURZTRAMINER: Temperamental; potent spiciness; overbearing; floral and refreshing; crisp; uncommonly rich and complex
GRENACHE: Especially noteworthy; spicy; supple; workhorse; sturdy; heat-resistant; softens harsher partners
MERLOT: Can stand alone; noteworthy; popular; light; unremarkable; marries well; aging potential is fair to good
PINOT BLANC: Desirable; terrific; intense; complex; can age; not suited to rain-prone locations
PINOT NOIR: Touchy; rather ordinary; simple; downright funky; fickle; notoriously fussy; thin skin; easily bruised and broken; chameleon
REISLING: World's greatest; hardy; extremely resistant; achieves brilliance; often celebrated; ability to age almost endlessly; rare and expensive
SANGIOVESE: Superb; distinctive; stand-alone; bright future; quality; forceful aromas; firm and elegant; assertive and robust; slow to mature; provides backbone; tends towards bitterness
SAUNVIGNON BLANC: Amazingly complex; prodigious; crisp; highly profitable; extreme; extra body; pungent; fantastic
VIOGNIER: Most difficult; one-dimensional; distinctive; powerful; abundance of spiciness; shy; rare; prefers warmer weather
ZINFANDEL: Challenging; sweet; zesty; spicy; balanced; ultra-ripe; luscious; popular; lively; age-worthy; quintessential
#PinotsPaletteTysons
#TeamBuilding
#IAmZinfandel
#IWantToBeCabSav
Enter your contact info and request details below, and we will contact you with details about your private party!