Wood Paintings at Pinot's Palette!
Have you seen our new wood paintings at Pinot's Palette? The first ones started being painted at our studio a few months ago, but now we have more and more options for painting on this vintage-looking medium.
One of the most popular wood paintings is our Old World Snowman, which has been painted in both public and private parties. It's a cute painting of a snowman on a 10"x30" wood palette. It's easy to translate our 10"x30" canvas paintings onto the long wood palettes, so if you're planning a private party with the tall canvases, consider asking our studio to alter the painting for wood paintings too so that you and your guests can leave the party with unique wood paintings.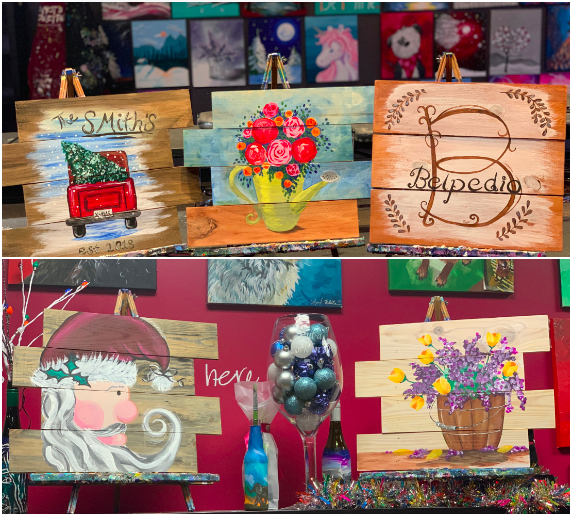 The wood upgrade is just $10 per person – if you want to paint on wood for even a public party too, just let us know! We'll make sure that the painting will look good on the wood palette and that you get the appropriate shape and size wood!
We also have wood palettes meant to complement our paintings for our regular 16"x20" canvases! They come in two shapes – one has flat, rectangular edges, and the other is Z-shaped (the panels are alternately placed off-set for a more engaging zig-zag shape). You can, of course, choose which shape palette you like if you let us know ahead of time. If you need suggestions, our artists are happy to assist you! If you'd like to see samples of these wood paintings at our Glen studio, we have ones of Santa, a red truck, and flowers on display. Just come on in, and we can show you them!
An upcoming wood painting that we have is on February 23rd (a Saturday), and we'll be painting a day on the dunes! Our artist can show you how to do it on either wood or canvas (16"x20")! Just let us know that you'd like to do a wood palette painting, if that's your preference, and the upgrade is $10! And in March, on the 3rd (a Sunday), we will have a horizontal painting of mountains and a compass on 10"x30"! We already have a few sign-ups for that one, and we're so glad people are already interested!
If you're interested in our date nights, we definitely have not left wood palette options out of them! We'll have two wood palette date nights in February on the 1st (Friday) and the 16th (Saturday). On February 1, we'll be doing a painting of four lovebirds on a branch, spelling out L-O-V-E. on two 16"20" canvases! There is an option for both wood and canvas paintings. And on February 16, we'll be doing a scene of birds looking at the moon in between two birch trees, painted on 10"x30" wood palettes! We're really into birds here at our studio, but let us know if there's anything else you're interested in seeing for our date nights! We would love to hear your feedback! And how do these date nights work? Come in with your significant other or best friend to work on two separate canvases that come together to make a bigger connected painting!
We love these wood paintings because it gives you a chance to make your painting even more unique. These paintings don't require frames to make them look elegant in your home – they already look great as is! Included in your wood palette upgrade are sawtooth hangers that you can nail into your wood board for easy hanging at home! But even if you did not hang it up on the wall, it would still look amazing on a small table, leaning against the wall for a monumental look. You can also personalize the wood palettes to better match your home. The very first step to painting the wood palettes at our studio is staining the wood with a wash of color (almost like you would stain wood furniture at home). If you have a certain wood-color aesthetic at your home, let our artists know so they can help you stain it the right tone! We would be so happy for you to take home these beautiful paintings from our studio.
For more information on upcoming wood painting dates, check out our online event calendar on our website. If you'd like to see examples of these wood paintings, don't hesitate to stop by our studio to see them in person, or you can see some class photos posted online on our Facebook page for our Glen location!
Questions? Call or email us!
847.730.5972
theglen@pinotspalette.com