Summer 2019 Kids Camp!
Spring break's just about here, and after that, summer is just a stone's throw away. Soon it will be time to sign up your kids for various summer camps to keep them busy and organized over the break. Sign them up our Little Brushes kids camp this summer! A huge perk to our summer camp is that you can sign your kids up by the week or by the day – perfect for those odd days and weeks when your kids don't have other engagements!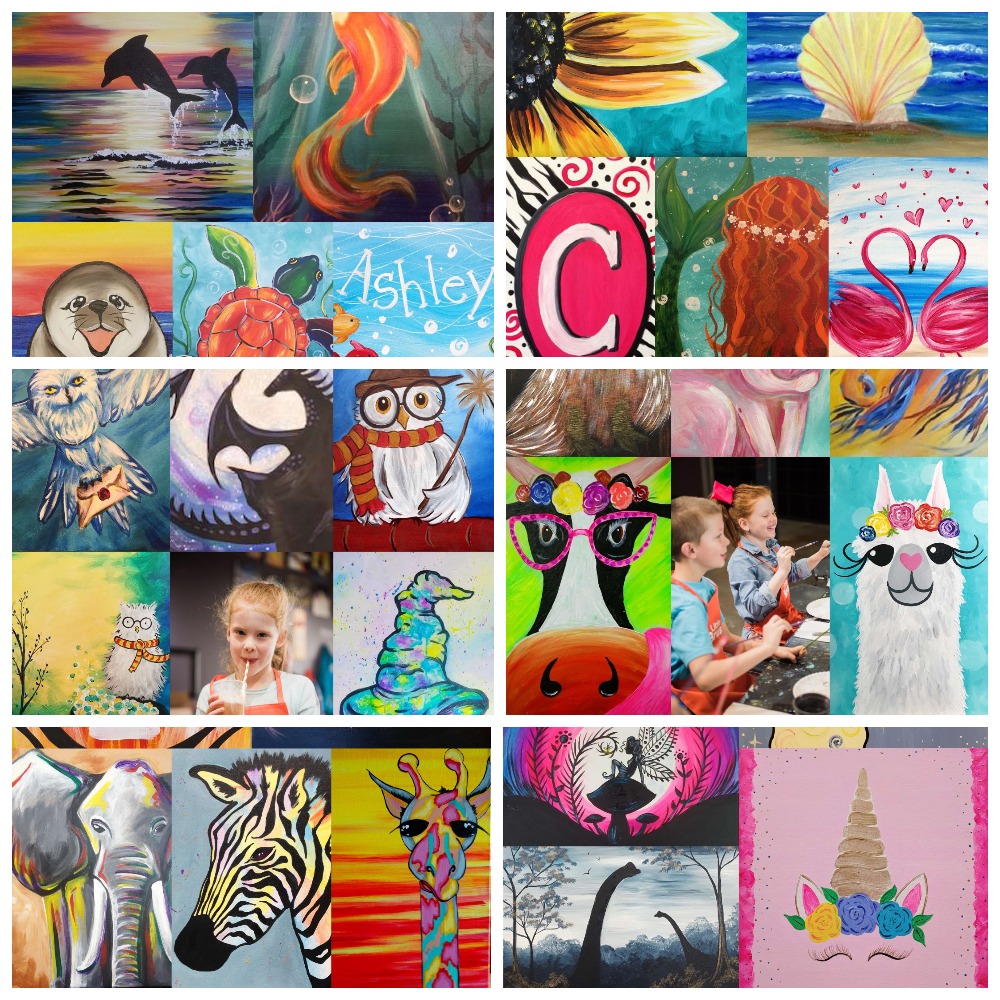 What's New?
Ever heard of Jumbo sized games?!!? It's all the rage! We are bringing ilife sized games however very day of the week will be a bit different. Every Monday, we'll be playing games after craft. On Fridays, we'll be having snow cones, as well as popping popcorn with the kids. And to mix it up with the paintings, some paintings will be on 10"x30" canvases, and every Tuesday will be a canvas bag painting!
A general look at the day:
This summer, we've changed our camp hours. We will be having camp from 8:00am to 12pm. Drop off will be at 8, and we will start to paint at 8:15! We will be doing one of our 2-hour kids paintings, followed by a snack break, craft, and/or activity! The age group for Little Brushes Summer Camp is 6 to 12 years old.
Example Itinerary:
8:00-8:15 Kids Set up their own station, get supplies
8:15-10:15 Painting (Snack break - make popcorn)
10:30-10:45 Clean Up
10:45-11:20 Craft
11:20-11:50 Games
11:50-12:00 Pictures w/ Easel (huge bear) + Pick Up
Prices:
Daily classes are $62/day! This will include a 2-hour painting led by one of our professional artists, the craft, water, and a snack: Skinny Pop, Sun Chips, Pretzels, popping popcorn together with our Popcorn Machine, and don't forget about Snow Cone Friday!
If you book a full week of Little Brushes kids camp, you'll save $30 at $279/week!
Early Bird Sign up -- If you sign up before May 1st, you can save $5-$15 depending on which package is booked.
The Schedule:
The dates and paintings for Little Brushes Summer Camp has already been posted on our website! We'll be having kids camp almost every other week, starting Monday, June 10, until Friday, August 16. We'll be having a total of 6 weeks of camp spread out through the summer!
Our Themes: (Paintings are listed in order from Monday through Friday)
Summer Week (June 10–14)
Shell at the Seashore
https://www..../event/311523
Sunny Side Up
https://www..../event/311510
Flamingo Fun
https://www..../event/311530
Ocean's Daughter
https://www..../event/311531
Oval Monogram
https://www..../event/311537
Sea Week (June 24–28)
Psychedelic Sea Turtle
https://www..../event/311539
Ocean Adventure
https://www..../event/311542
Tranquility At Sunset
https://www..../event/311543
Under The Sea Beauty
https://www..../event/311544
Seal You at the Beach
https://www..../event/311544
Farm Week (July 8–12)
Llama-Rama
https://www..../event/311548
MooDonna
https://www..../event/311546
Wild Horses
https://www..../event/311549
Prize Pig
https://www..../event/311878
Crazy Hair Day!
https://www..../event/311553
Wizard Week (July 22–26)
Wizard Mail
https://www..../event/311594
Game of Dragons
https://www..../event/311596
You-Know-Hoo
https://www..../event/311597
Cauldron Chemist
https://www..../event/311598
A Hat for All Sorts
https://www..../event/311599
Safari Week (August 5–9)
Elephant
https://www..../event/311600
Bright Stripes
https://www..../event/311830
Safari King
https://www..../event/311812
Earn Your Stripes
https://www..../event/311813
Jolly Giraffe At Dusk
https://www..../event/311601
Fantasy Week (August 12–16)
Sparkles
https://www..../event/311869
Fairy-Moons and Fireflies
https://www..../event/311872
Dinosaurs in the Mist
https://www..../event/311873
Legendary Llamacorn
https://www..../event/311875
Edge of Space
https://www..../event/311871