What is Open Studio Free Style Try Me Wednesdays?
What is a Free Style Open Studio Try Me Class at Pinot's Palette St. Louis Park (Currently called "Try Me Wednesdays")?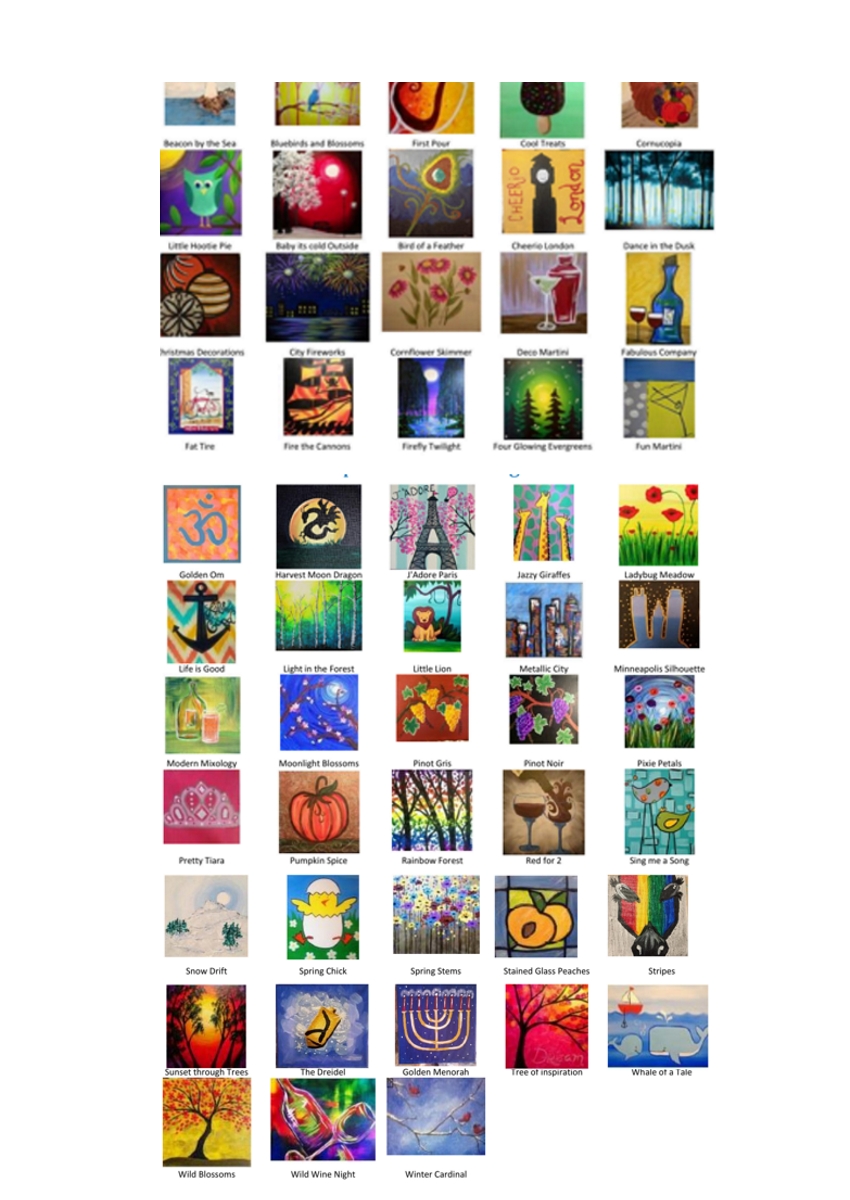 If you are looking for a way to get together with your friends or family and do something different, Pinot's Palette St. Louis Park has ideas for you! Maybe you have considered doing a paint night (also known as a paint and sip or painting and wine event), but don't want to jump in to a 2 or 3 hour guided experience. Maybe you have a young kid and are looking for an activity you can do together without distracting anyone else. Maybe you are curious about painting, but don't want to invest in buying paints and supplies just yet. Free Style Open Studio is for you!
It's the perfect balance of the paint night experience together with drinks and food, but without the Step by Step instruction from an artist and class structure you would get in our regular classes. Instead:
-Choose from a large verity of paintings with step by step instructions. We are always updating our library of available instructions
-Pick any painting you want to replicate from our walls
-Bring in your own projects and finish them in our studio
-Enjoy an unstructured and relaxed environment where you can freely socialize with your friends
-Flex your creative muscles in an unguided setting. You can paint as many canvases as you'd like in the 2 hour period. Our artist will help you with color mixing and will give a periodic tip or two if you need it, but we will not provide step by step instruction – you'll get to figure it out on your own. This can be a lot of fun!
-Enjoy wine, beer, non alcoholics and snacks from our yummy menu:
https://goo.gl/CKPqPC
-Try a painting and wine event for a much lower price. Only $20 per 8x8 canvas ($5 upgrade for a 16x20 size canvas is available once you get here)
-Each one of you can complete your own paintings and they can be different! :)
If you live in St. Louis Park, Edina, Bloomington, Minneapolis, Minnetonka or other surrounding suburbs – join us to try out this fun activity! Make it happy hour event and make your own new #happyplace. Kids are welcome also. If you have any further questions call us at 612.440.6744 or email stlouispark@pinotspalette.com.
"Amazing!!! Instructor was great, very patient. Price was great. Would definitely go back, loved the cute studio and smaller class size." - Jessica Spagetty
Share Find Your Event on Our Calendar | Click Here for Private Party Info