Homecoming with the University of Memphis
Pinot's Palette Sanderlin was invited out to help 200 members of the student body celebrate Homecoming on campus! We had a blast! Ever wonder what the day in the life of a Paint and Sip artist is like? Here's your glimpse into our exciting day of October 2nd.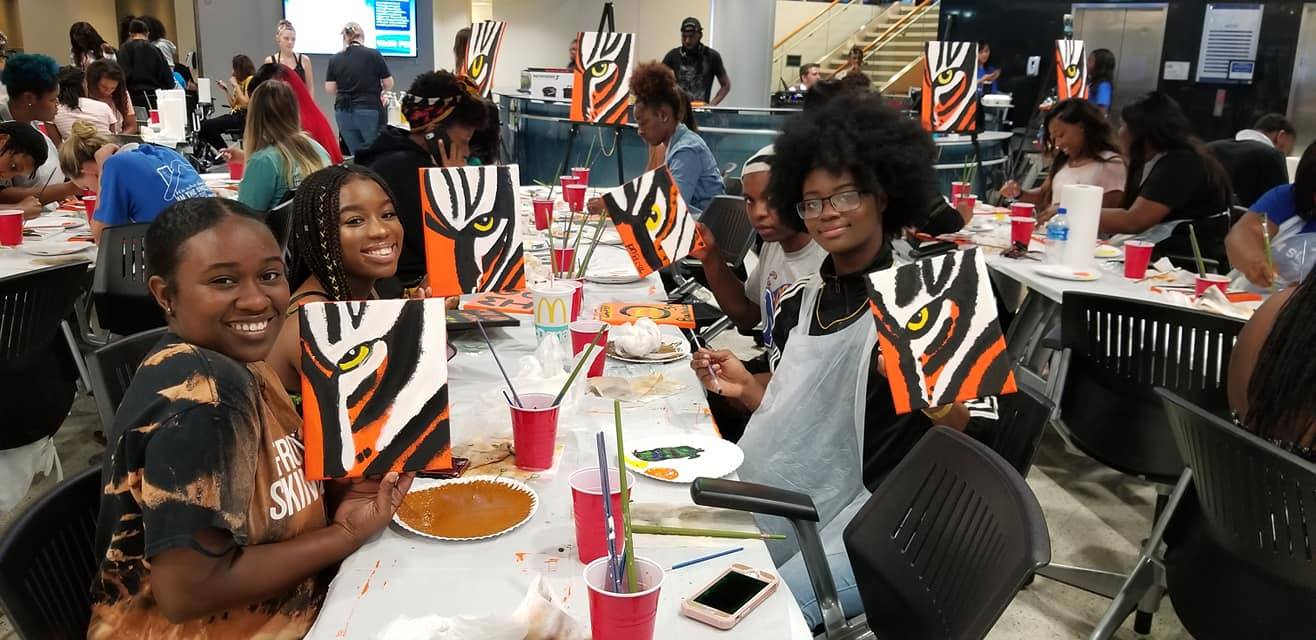 Hi! This is Mandy with Pinot's Palette Sanderlin! We were honored to get to spend some time on the campus of the University of Memphis celebrating Homecoming. We were asked to lead a painting while a DJ played some Hip-Hop Music! SOLD! I'm in! What about you?
Here's a glimpse in to our exciting day:
6:30AM - Wake Up and get the kiddo dressed for school!
7:15AM - Leave home and wait in car line to drop off kiddo!
8:30 AM - Hit the gym at Natural State Strength and Conditioning in Jonesboro, AR (yes, I live in Jonesboro)
9:30 AM- Head home and shower
10:30 AM- Head to Jonesboro studio (I have 2 studios: 1 in Jonesboro, AR and the Sanderlin location in Memphis)
10:45 AM- Office work
1:00PM- Drive with another artist to pick up our creeper van
2:00PM- Drive to Memphis (3 Jonesboro Artists in tow)
4:00PM - Arrive in Memphis and begin loading van for event
5:00PM- Dinner at Los Delicious! So Amazing! I love their salsa, queso, and tacos!
6:00PM - Arrive at University of Memphis and start setting up
8:00PM - Finished setting up
8:15PM - Students begin to arrive
8:40PM - Start our Tiger painting! Dance to some hip-hop music and help any students that are struggling with the paint... heckling those that need heckled! (LOL)
10:30PM - Hiphop outfit contest
10:40PM - Painting over and students begin to leave. Mass cleaning begins. Load up the van.
11:30PM - Head to studio. Drop off van and clean our brushes
12:00AM- Head home!
2:00AM - Home and snug as a bug in bed!
As you can see it was a long day! We had so much fun though! All the students, staff and faculty were great and we truly had a blast!! I can't wait for our next large Mobile event! If you are interested in having an offsite event at your location, please contact the studio at sanderlin@pinotspalette.com. We would love to come to your location and paint with you! Painting is so relaxing and a great way to connect with those around you!